Editors' note: This "Book in Brief" feature here on Boxes and Arrows is from
Orchestrating Experiences: Collaborative Design for Complexity by Chris Risdon and Patrick Quattlebaum.
We'll publish an excerpt, up to 500 words, of your book. The catch is that we'll only publicize one book a month; first come, first serve. Other rules will certainly occur to us over time. Hit us up at idea at boxesandarrows.com.
---
Defining experience principles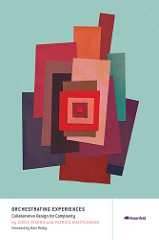 If you embrace the recommended collaborative approaches in your sense-making activities, you and your colleagues should build good momentum toward creating better and valuable end-to-end experiences. In fact, the urge to jump into solution mode will be tempting. Take a deep breath: you have a little more work to do. To ensure that your new insights translate into the right actions, you must collectively define what is good and hold one another accountable for aligning with it.
Good, in this context, means the ideas and solutions that you commit to reflect your customers' needs and context while achieving organizational objectives. It also means that each touchpoint harmonizes with others as part of an orchestrated system. Defining good, in this way, provides common constraints to reduce arbitrary decisions and nudge everyone in the same direction.
How do you align an organization to work collectively toward the same good? Start with some common guidelines called experience principles.