Boxes and Arrows has been publishing top quality articles on user experience issues for thirteen years, and has become one of the most visited and trusted sites for design professionals. Our audience includes senior practitioners and design managers, pundits and gurus. If you need to reach influencers, becoming a Boxes and Arrows sponsor is an easy and powerful way to do so. Contact us at sponsor at boxesandarrows.com to learn more.
Average monthly traffic statistics (6/2013 to 6/2014, via Google Analytics)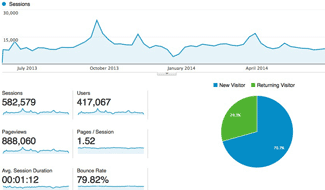 Users: 34,756 (1,143 Visitors / Day)
Page Views: 74,005
Avg. Duration: 1:12
Newsletter Subscribers: 6565
RSS subscribers: 17,412


Becoming a sponsor
Boxes and Arrows has a different approach to sponsorship. Rather than covering the magazine with many advertisers who are then forced to fight with each other for attention, we limit the number of sponsors to 3-5 at $1K a month. If you wish to sponsor us for three months, the cost reduces to $2500.
Your 180×180 ad shows up on every page of the site, and we also place a message for you to our readers in the newsletter and in the rss reader once a month. If you are a three-month sponsor, and we run a podcast during your sponsorship period, you are also thanked at the end of the broadcast. By limiting the number of sponsors, and inserting your message in all of our channels, you can really reach folks and let them know you are passionate about Boxes and Arrows too! Contact us at sponsor at boxesandarrows.com to learn more.