Editors' note: This "Book in Brief" feature here on Boxes and Arrows is from Kevin Hoffman's Meeting Design for Managers, Makers, and Everyone.
We'll publish an excerpt, up to 500 words, of your book. The catch is that we'll only publicize one book a month; first come, first serve. Other rules will certainly occur to us over time. Hit us up at idea at boxesandarrows.com.
---
How to Design a Meeting
When hundreds of hours of his design team's sweat, blood, and tears seemed to go up in flames in a single meeting with a group of vice presidents, Jim could have easily panicked. So that's what he did.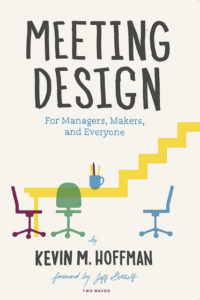 Jim is a creative director at a successful and highly respected boutique design agency—let's call it "Rocket Design." He found a fantastic opportunity for Rocket through a former coworker's new job at a Fortune 100 client—they were ready to spend half a million dollars to build the best website expe­rience possible in a competitive market: online meal delivery. After several weeks of discovery, his team had assembled a design direction that they believed could be effective. Baked into a collection of mocked-up mobile screens were strategies guiding content voice, brand execution, photographic style, and user interface functionality. To move into the next phase, Jim's job was to make sure that the senior leadership at the company believed in the proposed direction just as strongly as his team did. Project managers on the client side navigated the rat's nest of the leadership's meeting availability to find a standing monthly hour in which Jim and his team could provide progress updates.
At one of these check-in meetings, Jim walked the gathered group of vice presidents and directors through a series of screens, stopping to accent unique elements and key decisions along the way. Despite ask­ing people to hold questions until the end, there were a handful of odd interruptions, like this gem:
"That's a really strong yellow. I just don't know about that."
Continue reading Book in Brief: Meeting Design for Managers, Makers, and Everyone