Editors' note: This "Book in Brief" feature here on Boxes and Arrows is from
Living in Information: Responsible Design for Digital Places by Jorge Arango.
We'll publish an excerpt, up to 500 words, of your book. The catch is that we'll only publicize one book a month; first come, first serve. Other rules will certainly occur to us over time. Hit us up at idea at boxesandarrows.com.
---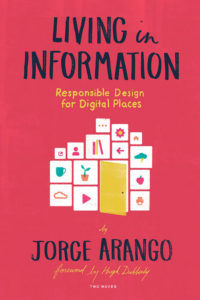 Chapter 4: Engagement
You walk into the kitchen with the intent of making a sandwich, when suddenly you hear glass shatter. You immediately turn toward the source of the sound. Your pulse quickens as scenarios play in your mind. Has someone broken into your house? Where are your kids? You walk into the living room to discover your son with a surprised look on his face and a ball lying on the floor next to the shattered window. Fortunately, he's alright. You comfort him and discuss what has happened, and then take your phone out and Google glaziers. You find a company that seems reputable and call them to set an appointment for the next morning. You go back to the kitchen and wonder, "Now, where was I?"
Thus far in this book, we've been discussing tangible ways in which places influence our behavior. But there are also more subtle ways in which environments affect us. One that is of particular importance is how they impact our ability to focus our attention.
Sometimes our attention is taken away by an exceptional occurrence, such as the sound of a breaking window. This is useful; the ability to respond quickly to changing conditions can help us escape danger. However, most of the time, we want to be in control of our attention. An environment that nudges us to spend more of our time there—or keeps interrupting us—would make it difficult for us to get things done.
The places we inhabit can either allow us to remain in control of our attention or snatch it from us for purposes of their own. Unfortunately, many of today's most popular information environments are based on business models that incentivize the latter. The term used in the technology business is "engagement": the amount of time people spend looking at or interacting with components in the environment. Given how important our attention is, it's worth looking at how designing for engagement affects it. Continue reading Book in Brief: Living in Information