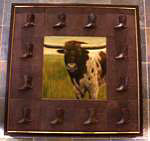 Texas Longhorn painting in the hotel.
(photo Erin Malone)
Five years and counting. This year's ASIS&T IA Summit, held in Austin Texas, seemed to me to be the best yet. Perhaps it is because of a lighter mood in the air, or because there are more jobs than ever being advertised, or because this year there wasn't a war starting at the same time as the summit. Or maybe it was just because we were in Texas, where everything is bigger, and we were communing with our people after a long year.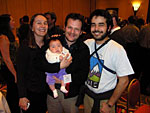 MJ and Lou Rosenfeld and Javier Velasco with baby Iris—complete with conference badge.
(photo Mike Lee)
Club DeVille: Location of the Adaptive Path birthday party

(photo Mike Lee)
Whatever the reason, this year's summit, themed "Breaking New Ground," seemed to have the right mix of new and returning folks, a nice variety of interesting and well-attended pre-conference workshops and several tracks of presentations to suit the IA of every flavor. While deciding which presentation to attend was at times daunting, you were guaranteed not to be disappointed no matter your choice. My only regret was that I couldn't be in three places at once.
The Friday cocktail hour was lively and a first chance to catch up with old friends as well as an opportunity to meet new folks. This was also our collective chance to meet the newest IA, Lou and MJ Rosenfeld's baby girl, Iris, complete with her own badge. Cocktails were followed with a lot of smaller groups doing the "Texas barbecue thang" and finally the three year birthday party for Adaptive Path–drinks supplied. Needless to say, the first few hours of the summit were jovial and festive and promised for a great weekend.
—Erin Malone
[Editor's note: while we attempted to have full coverage of this year's summit,
the sheer number of presentation options and the small size of our volunteer staff made it impossible to cover absolutely everything. Apologies to presenters who are not covered here.]
Saturday February 28, 2004
Opening Keynote
Achieving a State of Trans
Brenda Laurel
Conference Description
"We shape our buildings, and afterwards our buildings shape us."
–Winston Churchill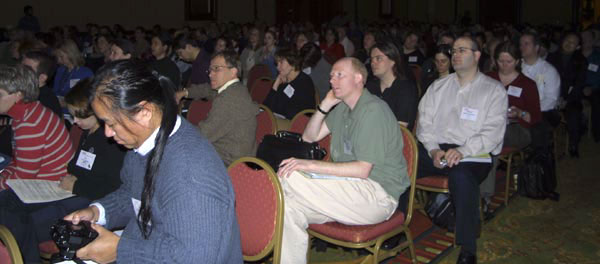 Conference attendees listening closely to Brenda Laurel
(photo Erin Malone)
Winston Churchill's famous remark was not directly quoted by Brenda Laurel in her opening keynote speech, but anyone in the audience familiar with the saying likely had a hard time not thinking of it. In an interesting hour-long presentation that covered topics ranging from evolutionary theory, media studies, computer science research, and the work of her design students at Art Center College of Design, the noted author, designer, and teacher argued that today's information architectures go beyond simple structures in which we work to complete activities and tasks. Extending Churchill's point to address contemporary information ecologies, Laurel insisted that famed media theorist Marshall McLuhan missed the notion that media would become indistinguishable from living systems. In fact, today's information systems extend across physical, temporal, psychological, and linguistic boundaries, and have begun to define new spaces of human life.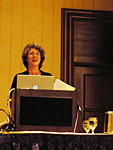 Citing the Baldwin effect–a hybrid evolutionary theory that postulates that a species' learned behaviors affect the direction and rate of its own evolutionary change–Laurel presented several examples in which designed information systems have begun to create fundamental changes in the way we experience the world–from the way we use our bodies to navigate virtual environments (Char Davies VR environments), to the way we plan and react to communications across specific media, to the systems we have created that allow for new forms of status and social currency for the individual (think Amazon's reviews). In effect, the systems we are designing impact not only our current perceptions and relationships to the world, but define future possibilities by shaping how we think and act as a global culture, as a people, and as a species. Inasmuch, Laurel reminded the audience that it is critically important to consider our teleology, and to set our intentions wisely.
True to this year's conference theme, "Breaking New Ground," Laurel's presentation kicked off two days of broad and deep looks at new ways that information architects are considering their work. Though many of the arguments were perhaps a bit esoteric for many in the audience, at the very least attendees came away with new questions to ask about information architecture, a few interesting examples to ponder, and a bit of eye candy to help get the intellectual sugars flowing early on Saturday morning.
—John Zapolski
Taxonomies, Controlled Vocabularies, and Ontologies Panel
Amy Warner, Katherine Bertolucci, Kathryn Lewellen. Moderated by Chris Farnum
Conference Description
| Handout
"The way we order represents the way we think." –Steven Jay Gould An energetic, standing-room only crowd attended one of the first sessions of the conference, a panel on taxonomies, controlled vocabularies, and ontologies
by Katherine Bertolucci of Isis Information Services (http://www.isisinform.com), Amy Warner of lexonomy (http://www.lexonomy.com) and Kathryn Lewellen of Thomson's legal and regulatory division (http://www.thomson.com). Taxonomies, Controlled Vocabularies, Ontologies; any one of these topics, alone, has depth enough to warrant its own breakout, but in combination these three topics convey how very deep our industry goes. This session was broken into three mini-presentations:
Katherine Bertolucci shared experiences and insights gained from her work developing a taxonomy for Snoopy and Determined Productions. Taxonomy, according to Ms. Bertolucci is not only a tool for the retrieval of information but also as a means by which you can help your client or company understand their existing systems.
Amy Warner provided guidance for the development, maintenance and evaluation of controlled vocabularies. In particular, Ms. Warner's presentation delved into methodology. What I found reassuring in the process she described, was the inclusion of stakeholders early and often the process and an emphasis on testing and validation.
Kathryn Lewellen argued for a new definition, or at least perception, of ontology in the absence of well-adopted standards. Ms. Lewellen's presentation
also broke down the concept of ontology, providing a better definition, outlining
benefits, leverageable values and metrics. Ms. Lewellen suggested evaluating
your ontology for its potential as a source of revenue and improved customer service.
Overall, this session was an excellent blend of war stories, methodologies, guidance and food-for-thought hopefully provoking those in attendance to reevaluate their existing tools and processes. At a minimum, lucky attendees went home with a brand new set of tools for facing classification metadata challenges.

—Christian Ricci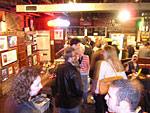 Dinner at IronWorks Barbecue
(photo Mike Lee)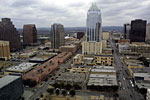 Austin
(photo Erin Malone)
Emerging Content Requirements for News Products

Howard Williams
Conference Description | Handout
Creating No-Duh Deliverables
Dan Willis
Conference Description | Handout
We usually tend to think of deliverables as artifacts that describes a solution to a problem. In his presentation, Dan Willis described a different class of deliverables–artifacts that conceptualize the problem itself. These deliverables are useful for getting everyone to agree on a conceptual model of what is being built, why it is being built, and how all the pieces fit together. Dan calls them no-duh deliverables because as they solidify, everyone looks at them and says, "No duh! I get it! Can we move on?"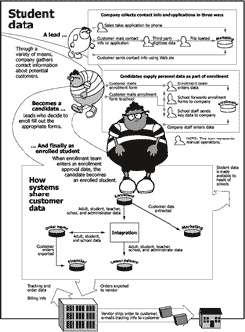 Another theme from the presentation, not clearly articulated but definitely present, was that deliverables are both a thing and a process. This process must involve everyone, not just the information architect. The effectiveness of deliverables, no-duh or otherwise, depends on the effectiveness of this process. You can find examples of no-duh deliverables that Dan has created for various projects on his website.
—Karl Fast
Dan Willis described the goal of the no-duh deliverable as getting different people to talk about the same things in the same way. He pointed out the power of consensus-building and creating a sense of shared ownership in a solution. Dan presented several approaches to requirements-gathering, feature list building and concept presentation that were deceptively simple, yet extremely effective. The basics included: the power of visuals, the value of smart group facilitation and filtering and funneling upper management's generalities down to specific users.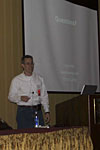 Dan Willis taking questions
(photo Erin Malone)
Dan's basic strategy for success: First, review all the things the task force needs to understand the same way, then think about groupings, then think about change points (or where the information flow changes), then make the concept visual. Once everyone shares the same vision, revision comes shortly after, which is a true sign of success because it represents progress.
—Lara Ferguson McNamara
No-duh deliverables–what are they? As Dan explained, his aim is to create deliverables that encourage people to say 'Stop, No-Duh, I get it already'.
The primary reasons for creating No-Duh deliverables are to build consensus, gain support and share ownership through improved communication. Dan's deliverables include a combination of visuals and text and are both interesting and inspiring. He showed a number of examples of his deliverables, and walked through a case study explaining the processes he used to create a particular deliverable–both the process of distilling complex data, and communicating the conclusions.
Now, Dan can draw, and I can't. Does that mean that I can't create No-Duh deliverables? No, as Dan said "the power of the no-duh deliverable is in the brain, not the pen". I know that I'll be thinking differently about my next set of deliverables.

—Donna Maurer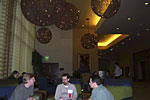 Discussions during the breaks were often intense
(photo Erin Malone)
XIA@UT: An Extreme Makeover
Jill Burkart, Don Turnbull, Amaris Vigil, Andrew Switzky, Diana Miranda, Leonard
Liaw
Conference Description | Handout
Redesigning a Digital Video Library
Gary Geisler, Anthony Hughes
Conference Description | Handout
The Open Video Project (www.open-video.org)
is a free digital video library based at the University of Chapel Hill. The
project serves two purposes. The first is to be a useful public resource. The
second is to act as a testbed for digital library research, particularly research
on interface issues.
Dr. Gary Geisler, a professor in the LIS
program at Simmons College in Boston (http://www.simmons.edu/gslis/), described
the project and the recent redesign efforts. Encapsulating this informative
presentation in a paragraph is impossible, and I will not attempt it. But if
you are engaged in a similar venture, the Open Video Project is a first class
example of how to do it well. And I am pleased to report that all of the research
publications based on the project are online (http://www.open-video.org/project_publications.php).
One sincerely hopes that the project grows and evolves, and that the research
team continues to share the results of their work with the information architecture
community.
—Karl
Fast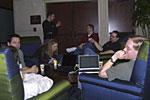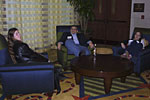 Meeting folks during the break
(photo Erin Malone)
A Critical Review of Enterprise Content Management
Tony Byrne
Conference Description | Handout
Today's CMS vendors are working from several different definitions of Enterprise
Content Management (ECM), including a single "function point" implementation,
an integrated "suite" of content management solutions, and the "single source
of truth" within the enterprise. But Tony argued that ECM is really a discipline
that can be applied broadly across all technologies. He suggests that information
silos aren't inherently bad, and from a business perspective, there's a reason
for silos that we should consider as we craft ECM solutions that fit our various
markets.
Tony's was the voice of reason, as he suggested that vendors are still 18-24
months away from solutions that are actually integrated across the enterprise.
His suggestion for getting through the next two years with the technology we have
on hand is to maintain a strong connection between business processes and content,
build specific use-cases for how information needs to flow, and recognize that
at each stage of the business process there are different content needs.
—Lara
Ferguson McNamara
I must admit that I hadn't thought about this a lot and was expecting to see
information about various content management systems. I was pleasantly surprised
to find out that Tony's presentation was a high-level discussion about Enterprise
Content Management as a discipline rather than as software or tools. Tony provided
four different definitions of ECM with the underlying concept of each definition
and some broad conclusions about the tools that support each definition. He
also provided some practical suggestions about what to look out for in an enterprise
content management project.
—Donna
Maurer
Making Personas More Powerful
George Olsen
Conference Description | Handout
"I needed a tool not just to create empathy, but a tool to help
me design." –George OlsenWhile Alan Cooper wrote about the "why,"
George Olsen presented us with the "how" of personas. George shared methods
from his
extensive toolkit for developing the more tactical aspects of persona development.
We can find full details in the toolkit itself. The talk focused on how to build
up the tactical details of the personas, how to define their relationship to
the product, the business, and their environment. George, throughout the presentation,
encouraged us to develop personas that use the data collected from actual users,
filtering out any personal tendencies that may affect the details. And if actual
user data is not available, he suggests using substitutes he terms as "User
Surrogates," "Informants and Interpreters," "Indirect Sources," and "Ersatz
Users" (more details in the Toolkit).
George defined six categories of persona types: Focal, Secondary, Unimportant,
Affected, Exclusionary, and Stakeholders. And we must consider them from a number
of different angles, being careful to separate our own personality traits from
those of the personas we develop. After all, "you are where you live," Olsen
explains. Geography, therefore, becomes one of the key topics to consider. To
round out your characters, think about whether your characters are the New Zealand
or California. What magazines do they have access to? What language do they
speak?
Knowing how to put your audience in context to other audiences is critical.
To prove his point, he asked the room how many listen to National Public Radio
(NPR). And a good number of the audience raised their hands. Although the majority
of the people in the room were listeners, only 4% of the population actually
listens to NPR.
Knowing the relationship between your persona and the product you are designing
is also key. How would the persona interact with the product? Where would the
persona interact with it? Should the persona have an emotional reaction to the
product? The Toolkit is intended to work like a good editor works with a writer,
pushing the writer to develop characters fully. He suggests engaging your organization
in the personas, rather than using them as just one deliverable in the product
development cycle.
—Liz Danzico
In his session, George Olsen presented his toolkit for creating next generation personas. Personas, in George's view, are too fuzzy. "I needed a tool not just to create empathy," he explained, "but a tool to help me design." His toolkit aims to create personas that help with both the high-level strategic decisions as well as the tactical decisions and the inevitable design trade-offs that have to be made. The toolkit includes several pages of questions that explore:
The persona's biographic background
Business's relation to the persona
Persona's relation to the product or business
Specific goals and attitudes of the persona
Specific knowledge or proficiency of the persona
The context in which personas uses the product
The interaction characteristics of product use
The information characteristics of product use
The immersive characteristics of product use
Emotional characteristics of product
Accessibility issues
Relationships among the personas
Although that seems like a lot of detail, George emphasized that these personas
can be developed iteratively. Some of the fine-grained information may not be
necessary in the early stages of a project, but it can be valuable later for
prioritizing interface and architecture elements. A mix-and-match approach would
also work, since some parts of the toolkit will be more relevant to a project
than others. (George's slides offer some additional information on the toolkit.)

—Gene Smith
XIA: Xtreme IA
Don Turnbull
Conference Description
While featuring an edgy–even paradoxical–title, this talk was a rather straightforward,
matter-of-fact presentation, proposing an accelerated approach to IA based upon
hot methods in computer science, known as "pair programming" or "extreme programming"
(XP). Turnbull offered a brief survey of the history of programming methodologies
and continued with some examples of XP approaches. Essentially, the XP idea
is intended to speed up the process and involve rapid iterative cycles of feedback
and change, generating newer, faster outcomes of the code. The big question
is whether this would work with IA, particularly in situations with massive
scalability challenges (ie, hundreds or thousands of objects and peer relationships)
and globally distributed teams. The answer was not immediately apparent from
Turnbull. Further unresolved issues included:
Under what organizational and cultural conditions would XIA flourish?
How should the time-compressed "pair programming" ideology fit into the
IA design cycles, with different stakeholders and agendas and priorities intermingled?
How can somebody ensure effective lines of communication during this accelerated
process, to deal with conflicts and trade-offs?
One issue that fueled the fast-emerging controversy over XIA was the emphasis
on "code", rather than "design". Finally, doubts were raised among the audience
about IA practitioners becoming essentially project managers, a dubious proposition
put forth by Turnbull as part of the XIA approach.
So, while raising many serious and valuable questions of process and practice
for IA, this
talk floated an idea that doesn't seem quite ready for primetime in terms of
implementation. While one person charged that XIA is very "utopian", the concept
does offer food for thought, particularly about the aptness of the word "extreme"
in a discipline that is often seen as measured, rational, systematic, and orderly.

—Uday N. Gajendar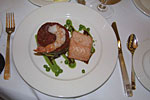 Lunch?
(photo Erin Malone)
Fun with Faceted Browsing
Keith Instone
Conference Description | Handout
Is there an information architect who doesn't love facets?
After briefly defining what faceted browsing is, Keith took us on a tour of
4 sites that allow faceted browsing (epicurious, IBM product finders, flamenco
and MSN shopping), comparing how each handled aspects of the faceted experience.
He also showed non-examples–sites that looked like they could contain faceted
browsing, but did not quite. Given that faceted browsing is still in its early
stages, he raised a number of questions rather than coming to conclusions.
During the presentation, Keith showed screen shots–a live connection really
would have shown the way the interfaces work much better. Keith's notes are
good, so if you missed this session, read the notes and have a look at the sites
at:
Keith is also interested in other examples, so email him if you find a faceted
browse on another site. More notes are available here: http://user-experience.org/uefiles/facetedbrowse/

—Donna Maurer
Information Architecture of Content Management-Based Reuse
Ann Rockley
Conference Description | Handout
Ann categorized and described quite a few key terms in this presentation. She
outlined the kinds of content one might find in a content management system
(locked, derivative and nested) and the kinds of reuse that are possible for
that content (opportunistic and systematic). She talked about not only the kinds
of metadata used in a content management system (traditional categorization
and element descriptions), but also various uses for that metadata (reuse, retrieval
and tracking within a workflow).
Ann touched on the business rules for reuse management, including considerations
of workflow, approval and use of derivative content. And she suggested various
strategies for supporting content reuse, including authoring tools that support
structured content, CMSs that handles content granularity at the level that
matches your business needs, and delivery tools that can be used to filter content
to assist in reuse.
—Lara Ferguson McNamara
Incorporating Research on Navigation in Design Method
Victor Lombardi
Conference Description | Handout
"Does an underlying spatial metaphor make it easier for users to find information
they are looking for?" This kind of question was what sparked Victor Lombardi's
research for the Summit presentation. The original question was posed at last
year's
Wayfinding and Navigation Summit panel with Mark Bernstein, Susan Campbell,
and Andrew Dillon.
Victor's talk focused on two lines of research: first, the "shape of information,"
and second, "transitional volatility." To start, Victor shows us a slide with
an excerpt from a document. When he asks the audience to identify it, we all
immediately could.

Menu example
The shape of information of the information in this menu helped us predict
the context, ordering, and grouping of elements. With this information, we become
oriented and can navigate, all without the use of titles, headings, breadcrumbs,
or navigation bars.
When he compares this to an information architect's view of the menu in wireframe
format, it doesn't seem as intuitive. Although the layout makes sense, it pales
in comparison to the familiar menu.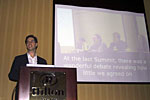 Victor Lombardi
(photo Erin Malone)
Referring to research by Andrew Dillon and Elaine Toms, Victor presents two
more examples that demonstrate why content itself–because it has a recognizable
shape–becomes a kind of navigation. "Content is not different from navigation:
In the example of the Chinese food menu we understood what we were seeing, where
we were, and what is around us all without explicit navigation, so the content
itself–because we are familiar with it–enables us to navigate."
Victor kicked off the "Transitional Volatility" part of the discussion by debunking
our "keep navigation consistent" understanding. Research by David Danielson,
he shows us, demonstrates that instead of keeping navigation consistent, we
should "change navigation in subtle ways." By changing the navigation subtly,
users' eyes are drawn to the change and "better prepares users for change and
better reveals connections among information."
In the question and answer session after the presentation, an audience member
suggested this variation: "Change navigation subtly, but do so in consistent
ways."
Finally, Victor describes a methodology for incorporating this research into
one's design method. He emphasizes that navigation design done too early may
result in a user experience dependent on information organization, rather than
the natural shape of the information. Instead, he follows these steps:
Summarize your research
Define resulting experience
Gather and identify content
Link content, retaining shape and expressed desired user experience
Classify information if necessary
Victor's presentation provides just a handful of the rich research out there.
At the end of our discussion, Victor encourages us to explore the great research
that is out there to help inform our design processes.
—Liz
Danzico
Selling User Experience through Value-Centered Design
Jess McMullin
Conference Description
This was a casual presentation about an ever-present issue for IA and UX professionals–how
to sell your self (and your services, skills, benefits, etc.) beyond the familiar
"good user experience" argument. McMullin candidly declared that the client/business
guy wants to know "why bother, who cares, and so what," indicating that this
is the audience to be addressed. He suggested that a big part of the "selling
problem" is that we are all talking to each other, about ourselves as IA/UX
professionals. McMullin hinted at the notion of approaching selling as a design
problem. Okay, fair enough. So who is the user? In this case, it's the generic
persona of "Scott Skeptic;" he is a fair-minded business veteran dubious about
IA/UX in terms of supporting his management and economic goals (i.e., maximizing
profit, sales, revenue, etc.).
This is where McMullin advocated what he called "value-centered design", focusing
on the "value" to the business as part of the sales message. Ostensibly this
should be in the form of measurable, quantifiable results–goals, benefits,
dollars, etc. McMullin suggested "value" has four levels: business, individual,
the offering (not a cheesy horror flick!), and delivery. And ultimately there
needs to be a "fit" of user goals to product functionality that will ensure
a practical business benefit.
The talk ended without a specific resolution; in fact, McMullin admitted he
meant to offer conversation starters. It would have been nice to hear some "war
stories" from his experience in the field as a consultant. Pitfalls and lessons
learned about communicating the value-driven message would certainly help this
audience back at the office. What to say, or what not to say?. I could see this
becoming a workshop for next year. Overall, the talk had a nice direction, with
a necessary message to be told, however there were no action items or solid
conclusions.
—Uday
N. Gajendar
Using Facet Analysis for Improving Information Access to Marginalized Communities

D. Grant Campbell
Conference Description | Handout
When Ninety-one Yeaers of Content goes Digital
Jody A. Hankinson
Conference Description | Handout
Creating a Consistent Enterprise Web Navigation Solution
David Fiorito and Richard Dalton
Conference Description | Handout
David and Richard set out to solve some serious navigation and usability issues
for Vanguard, and they came up with some interesting IA tools in the process.
They created a navigation matrix, in which they mapped the content of the Vanguard
site to compare modes of navigation (structural, associative and utility) with
proximity of navigation to content (attached to content, embedded in content,
layered with content, is the content) to determine what types of navigation
best suited various sections and functionalities of the website.
They investigated the key relationships expressed through different types of
navigation, as well as the various content types and the kinds of navigation
that support each. By breaking the content functions of their site into the
basic categories of examination, exploration and execution, they were able to
establish a template approach to navigation that appeased information designers
and users alike.
—Lara
Ferguson McNamara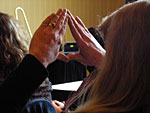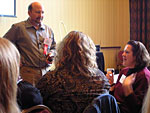 Thom Haller leads an interactive session
(photos Mike Lee)
Rebuilding Trust in User Centred Design, Wachovia.com Investing Center Redesign

Samantha Bailey
Conference Description
4 Myths About Taxonimies & Dublin Core: Examples from the Field
Joseph Busch
Handout
Stories from the Field: Never Consider Yourself a Failure, You Can Always
Serve as a Bad Example
Thom Haller
Conference Description | Handout
Thom talked about the idea of failure and about different types of failure,
and how we can learn from them, pepperred with examples from his own life. The
session was interactive, with listeners sharing stories of failures and what
they had learned from them. As an end of the day session, it was good to discuss
and participate rather than just listen.
—Donna
Maurer
The IA Slam Workshop Results
Lynn Boyden, Chris Chandler, Matthew Fetchko, Eric Reiss
Handout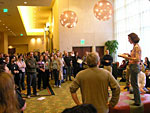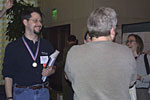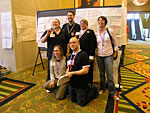 Announcing the winners of the IA Slam exercise. The winners
even got medals–how cool is that!
(photos Erin Malone and Mike Lee)
Take four role-playing organizers channeling the spirits of a VP, Product Manager,
Marketing, and Engineering Project Manager working for Gencool, a fictitous
refrigeration company. Split the 45 attending IAs up into half a dozen teams,
and tell them they are at a vendors conference to propose a design solution
for the latest company product–the iFridge. Present company background and
product concept, and turn the teams loose to design the next wave of connected
consumer appliances. In 45 minutes. With post-its and poster paper. What came
out of the mix was the first IA Slam–hopefully not the last.
The IA Slam was a blast–definitely the funnest conference session, and the
conference highlight for me. It was a great break from the usual format: hands
on and got groups talking about how they work on real projects. The organizers
stayed in character the entire session, complete with pseudonyms on their Kinko's
business cards. From the bottom-line concerns of VP Eric Reiss to the blue-sky
baby of product manager Lynne Boyden's dreams, teams had to juggle competing
expecations while still producing a workable design.
Solutions ranged from the simple (put a screen on it), to the minimalist (you
don't want a screen on an internet fridge), to the flat-out improbable (put
a $20,000 70 inch plasma screen on a $10,000 product–there's a reason we design
software and not hardware). Some of the most interesting choices came from choosing
which features to cut from the initial laundry list presented by Gencool.
After working through different design challenges, teams presented their concepts
to the Gencool judg…errr…staff. Nine minutes per pitch, and then the Slam
was over, until the next day, when the winners were announced. Congratulations
to Team Pink for winning, and special mention to Dave Robertson for provoking
a very realistic fight between Product Management and the VP in charge!
Looking forward to what Lynne Boyden, Eric Reiss, Matthew Fetchko, and Chris
Chandler put together for next year! Many thanks to the organizers for all the
hard work put into preparing a convincing fictitious company as well as all
the logistics for the session.
—Jess
McMullin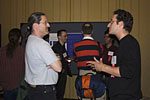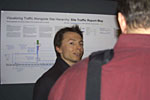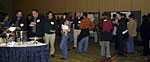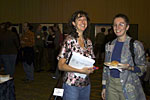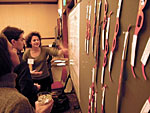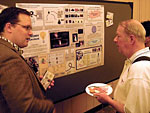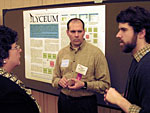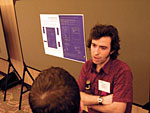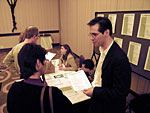 Poster session: poster presenters talk with attendees
as everyone grabbed food and drink after a long day.
(photos Erin Malone and Mike Lee)
Recycle, Reuse and Rebuild: Information Architecture on a Budget
Rebecca Sukach, Robert Kennedy
Conference Description | Handout
Rebecca and Robert outlined how they re-worked legacy documentation into a
more dynamic and customer-friendly format that provided a consistent flow of
content. They did this by identifying and analyzing the existing documentation,
defining and classifying it in information blocks, then looking for holes and
inconsistencies. Then they supplied basic templates to their content writers,
to facilitate consistent content generation.
Once they ensured that the new frameworks provided the right amount of structure
for the authors, they focused on user needs to determine the validity of their
information design standards. The process was quite iterative, because they
needed to constantly adjust various aspects of the design as they discovered
the rules of content reuse they needed to follow.
—Lara
Ferguson McNamara
Birds of a feather discussions
A nice, new feature of the summit. This block of time offered various BOF groups
a block of time to discuss ideas in further detail.
Birds of a feather – Content Management
In a 45 minute discussion, the group discussed content management issues such
as whether to implement a content management system and site redesign at the
same time, and shared stories about previous, current and future content management
system selections and implementations.
—Donna
Maurer
Posters
Social Virtual Interface (SVI). Baris Aksakal
Blueprinting: Moving into Precision. Clifton Evans
Taxonomy and Thesaurus: Analogy with a Play. Mark Geljon, Almar van der
Krogt
3D images and Metadata: Can We All Just Get Along? Elise Lewis
Visualizing Site Traffic Alongside Site Hierarchy or Flow. Brett Lider
Joint Evolution of Web Browsers and Online IA. Jennifer E. Jobst, Don Turnbull
LUCIA: A Comprehensive IA Process Model. Arno Reichenauer
Building Information for Computerized Systems: Developing Country Scenario.
Daniel N. Ruheni
URI as Navigation Tool. Manu Sharma
Metric Aggregation for Social Network Analysis in Blogspheres. Frederic
Stutzman, Butch Lazorchak, Jesse Wilbur
Information Architecture & Social Communication: Twins? Javier Velasco
The User Experience from Design to Use, and Back: A Causal Model. Javier
Velasco
The first day of the summit ended with folks checking out the Posters, gathering
together in groups to do dinners—the AIfIA members did a dinner, another
group did barbecue—and others went out for a night on the town. After all, Austin
is considered one of the best places to hear live music.
For More Information:
IA Summit official schedule
http://www.iasummit.org/conference.htmlSession presentations and handouts
linked here as well
Summit blog
http://www.iasummit.org/blog/
IA
Slam
http://www.e-reiss.com/Seminars/IA%20Slam%20mini-site.aspx
Blog writeups and more reviews
Videos:
Summit Photo Albums: