"In the same way you can create a cost-effective kitchen from a standard components such as cabinets, islands and fittings, it is possible to combine building blocks to create an executive dashboard or enterprise portal to meet your particular needs."
Executive Dashboards present an interesting array of design challenges ranging in all areas of user experience. Take your pick from a list that includes information and interaction design as well as information architecture. Add to that the business of creating information architecture that can provide a structure for growth and evolution. These challenges will be addressed in a six-part series over the next few months. The first article looks at problems facing dashboards which can be addressed by using a system of components that fit together to form a whole. Much like IKEA uses interchangeable islands, counters, and cupboards to create a custom kitchen, by using a system of tiles, it is possible to create an executive dashboard that effectively serves all its users.
The executive dashboard is a portal that combines business intelligence systems and browser-based applications to summarize the status of a complex enterprise for senior decision-makers. Like all portals, dashboards integrate a variety of content and functionality. Integration lowers the acquisition costs of finding items from multiple sources. It also increases the value of each individual tool and content asset through grouping to help decision-making and understanding.
But integration may also emphasize the differing, and sometimes conflicting, origins of the content, highlighting differences in the contexts, forms, and behaviors of dashboard offerings. The challenge is to create an effective user experience unifying these variations into a cohesive whole while preserving the meaning and identity of the individual assets. These challenges exist in all areas of user experience, from information design and interaction design to information architecture. Establishing sound information architecture capable of providing a consistent structure for growth and evolution for dashboards is particularly challenging.
Portlets: MIA (Missing Information Architecture)
The portal paradigm (collections of individual portlets in a single environment) is, so far, the most useful and familiar approach to these user experience challenges. I call it the "box of chocolates" model, because it packages a large number of different elements, while keeping each piece in its own compartment. The portal paradigm has two great strengths. First, it is a simple design approach, easily understood by users, business sponsors, and development teams. Second, it addresses many of the user experience design challenges associated with dashboards. It does this by breaking large collections of widely varying content into a series of well-defined and self-contained units. These units then present individual problems of information design and interaction design which can be solved one at a time, independently. It's a classic divide-and-conquer strategy that is successful because it is so simple.
From the perspective of information architecture, however, depending on compartmentalization and self-containment is not a complete solution. In the short term, separating items in this way helps manage some of the user experience complexity. Over the long term, it results in two significant weaknesses.
First, self-contained portlets cannot be combined easily to address the need for larger and more flexible communication, beyond the single chunk of information. Portlets are a one-size-fits-all solution to the many-sizes-at-the-same-time problem. The goal of a dashboard is to synthesize disparate information, at multiple levels of granularity and size, into meaningful packages that can be shared among leaders, each with their own perspectives. Facilitating such communication is a primary purpose of most executive dashboards.
Second, portlets are inherently flat, or two-dimensional. Flat portlets alone cannot provide a scalable, adaptable framework for growth and change within a consistent information architecture. Two-dimensional portlets will work is cases where information architecture is not a challenge (i.e., when a dashboard shows a small set of critical key performance indicators or functions to a select audience on a single page or screen) But as the amount of content and functionality (hereafter referred to simply as "content") grows, the number of portlets increases. This is often the case with many successful enterprise portals and executive dashboards. As word spreads about the usefulness of the dashboard, new audiences and users with differing information needs will join the early adopters, challenging the single view of the dashboard's range of content offerings.
Dashboard teams may face issues of poorly integrated or conflicting content, reduced usability, navigability, and findability, and a poorer quality user experience. Portlets can only deal with unmanaged growth by sprawling horizontally. Though convenient in the short term, flat portlets lack the capability to provide useful and adaptable structure in the long term. Such horizontal sprawl is similar to the real world example of unmanaged residential growth around major cities – a pattern resulting in urban sprawl, traffic congestion, social isolation, and high ecological impact combined with low energy efficiency.
Escaping flatland
"Building blocks offer standardization, modularity, and interoperability at multiple levels of the information environment, as well as in the user experience."
After encountering these weaknesses in a number of dashboards, I developed a simple set of information architecture building blocks to introduce depth and structure to flat dashboards. These building blocks allow for the rapid creation of larger units of content from smaller chunks of information, and support the goal of easily managed enterprise IA. The building blocks offer design teams modular information architecture components designed for assembly into larger combinations that scale effectively and respond to change. In the same way that you can create a unique but cost-effective kitchen from standard components such as cabinets, islands, fittings, and appliances, you can combine these building blocks to create an executive dashboard or enterprise portal that meets your particular needs.
The basic building block is a flexible component called a Tile. Tiles combine with other Tiles and building blocks to form larger, more complex units for content and functionality. Tiles and the other building blocks simplify the addition and removal of content, provide a basis for access and security controls at all levels, offer standard metadata attributes to simplify syndication and semantic issues, and make it possible for users to move about within the dashboard using consistent navigation flows. Together, the building blocks provide a sound information architecture for content required by business and a means of managing growth and change. Building blocks offer standardization, modularity, and interoperability at multiple levels of the information environment, as well as in the user experience.
Here's an example of a complex dashboard designed with the building block system. The image shows a portion of a business intelligence dashboard displaying content related to products sold by the U.S. subsidiary of a global pharmaceuticals company. Many of the different building blocks appear in this single screen: a Section Connector, a Page Connector, a View, Control Bars, several varieties of Tiles, Utility Navigation, and Convenience Functionality. Present but not visible are common metadata, access definitions, and other infrastructure attributes. This screen illustrates several of the basic guidelines and principles of the building block system: openness, inheritance, independence, and layering. This screen also shows effective stacking of smaller building blocks. In this case, several Tiles are stacked within a View, which is itself part of a Page, to create a larger unit of content available for syndication to other enterprise systems.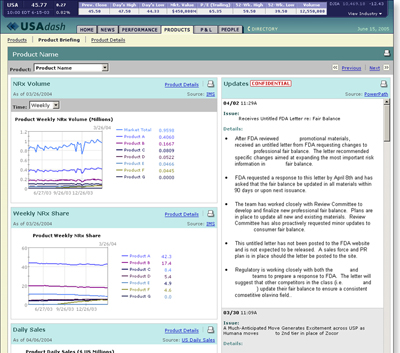 Figure 1: Example Dashboard Screen, Products Page (Click to enlarge.)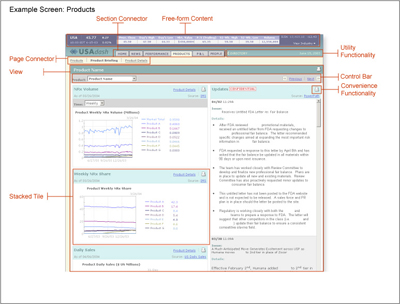 Figure 2: Dashboard Screen: This overlay outlines the individual building blocks that make up the Products page (Click to enlarge.)

A vision: syndicated assets for enterprise portals
The building blocks provide a strong foundation for the executive dashboard as an individualized console or executive information system. They allow the dashboard to offer different users a tailored subset of a larger pool of shared information and functionality assets.
This vision is based on a collection of building blocks for sharing and syndication: a Tile Library. Because the blocks represent standardization across many levels of the information environment, the Tile Library itself could take form at one or more of these levels. In enterprises lacking information infrastructure (such as a robust integrated enterprise applications layer or a strong semantic framework of enterprise metadata), the Tile Library might exist as a set of defined UX and IA blocks requiring custom technical design and system integration efforts. In enterprises with stronger, more mature information infrastructures, a Tile Library could take the form of a repository of building blocks users may access as services and assemble into new configurations labeled Dashboards, Enterprise Portals, or something else.

Figure 3: Tile Library
When used in environments with infrastructure capabilities such as single sign-on, distributed security and access management, discoverable web services, and integrated enterprise applications (EAI), this system of building blocks allows sharing and reuse of defined blocks among applications of all sizes and complexity. Widespread adoption and implementation of web services, XML, enterprise metadata, and enterprise security protocols make this both possible and practical.

Figure 4: Vision: Shared Enterprise Assets / Tile Library
In this vision, the dashboard is the conduit through which a consumer can access and manipulate assets from a common library managed and governed as an enterprise resource. It is possible to imagine an integrated suite of dashboards relying on common architectures (information, user experience, and systems) and coordinated management or governance apparatuses working together to satisfy the needs of a diverse enterprise leadership.
This is the first in a series of articles about executive dashboards and portals. Part two will address, in detail, the use of Tiles as bulding blocks for an effective enterprise portal.