Email unsubscribe is one of the most dreadful things for any email marketer. After all the hard work you put into a campaign, it is particularly annoying to get your emails unsubscribed.
According to Mailjet, if your unsubscribe rate is below 1%, you are said to be within the industry norm. However, emails sent to new lists—to subscribers who have not received an email from you before—are not included in this calculation because they usually have more unsubscribes. Your industry also influences the number of unsubscribes you get. An agreeable unsubscribe rate is below 0.5%, and you should work on creating better emails if your unsubscribe rate exceeds that.
It is worth noting here that purchased lists will have more unsubscribes because you do not have the permission to send emails to those addresses. Unsubscribes also contribute to a drop in your sales if unsubscribes surpass the number of new signups.
It's not even remotely possible that you don't have any unsubscribes. However, having unsubscribes is almost a double-edged sword.
What compels people to unsubscribe from emails?
People usually unsubscribe because they lose interest in your emails. Cluttered inboxes, irrelevant content, and poor email design are the top reasons for unsubscribes.
Too-frequent emails are likely to scare away your subscribers. Employ A/B testing to understand what works the best for your email marketing. Whether it's the send time (the specific day of the week an email is sent or even a specific time of the day as per the geo-location of the subscriber or both), subject line, or email copy, don't forget to test.
Email unsubscribes can be a blessing in disguise
Here are some reasons why.
1. They help you identify the flaws in your email marketing strategy.
Whenever a subscriber chooses to unsubscribe, you have the opportunity to collect their feedback. Their reasons for opting out can give you a new direction toward improving your email campaigns.
Reebok uses MailChimp ESP's unsubscribe reason survey.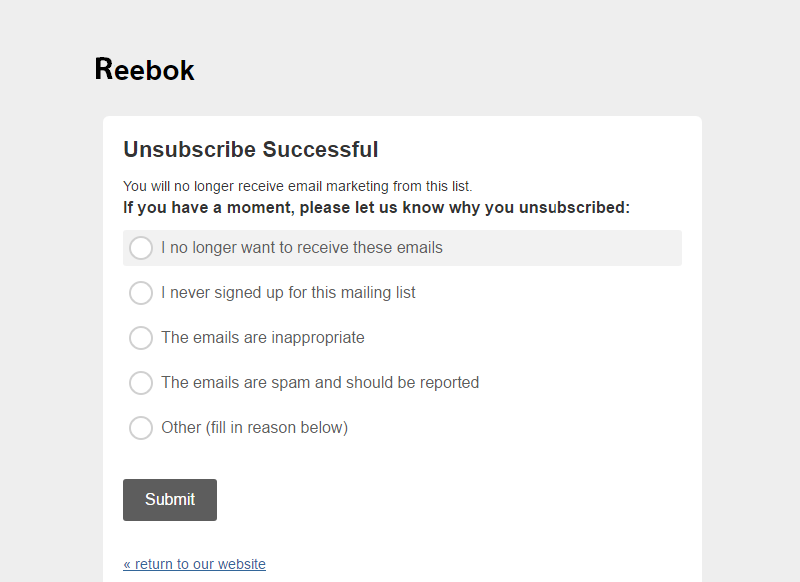 2. Unsubscribes enhance the quality of your email list and reduce your effort.
What's the use of sending out emails to people who are not interested in your emails? Unsubscribes automatically reduce the amount of time you need to spend cleaning your email lists.
3. Unsubscribes boost your deliverability and, in turn, build your brand reputation.
When uninterested readers unsubscribe, it means your list includes only interested and qualified prospects, which improves your email deliverability and keeps your domain reputation intact. It's certainly better than getting marked as spam.
4. Unsubscribes save you money.
Your email service provider charges money for sending every email. Someone who unsubscribes will most probably never buy from you, so it makes no sense to invest in reaching out to them. It's better to spend time on nurturing qualified leads that are more likely to convert.
The silver lining of unsubscribes
You can minimize your email unsubscribe rate by following some simple tricks. The top eight ideas to reduce unsubscribe rates are discussed below.
1. Segment your customers.
Collect data from customers like their age, gender, educational qualification, industry they belong to, company size, and interests. Make sure you gather the data that's relevant to your industry without overwhelming the subscribers with too many questions.
Segmenting according to these details helps in sending pertinent, interesting emails. What's important to understand here that segmenting is not the same as personalization. The essence of personalization is in drafting your email copy according to segmentation parameters.
Other than demographics, you can go a step further and segment according to purchase history, total purchase value, kind of products purchased, and the like: You can appropriately incentivize a first-time buyer or a frequent buyer.
To begin with, you can have two distinct segments and personalize your emails for them. Later, you can deploy multiple email campaigns to different segments.
2. Give your customers relevant content.
Figure out buyers' personas by interviewing your employees, customers, and qualified prospects. Carry out thorough research to understand your target audience to execute content mapping.
You can even gather information through lead nurturing campaigns to map the content manually according to the buying patterns. Depending on the buyer's journey, send out unique emails in the different stages, namely awareness, consideration, and decision.
You can use advanced content management systems to determine the behavioral patterns of leads. You'll subsequently build better email marketing campaigns because your segments will receive the most relevant content according to their preferences.
3. Use alternative means of promoting your brand.
If people unsubscribe from your emails, it does not mean that you cannot reach out to them through other platforms. Your 'unsubscribe' landing page should emphasize alternative communication options such as social media networks and your company blog.
Take a look at how Butlin's gives a sneak peek into all their offerings and highlights their achievements when a subscriber clicks on "unsubscribe." They even offer to help by providing links to their FAQ page and share feedback.
It's a perfect unsubscribe landing page.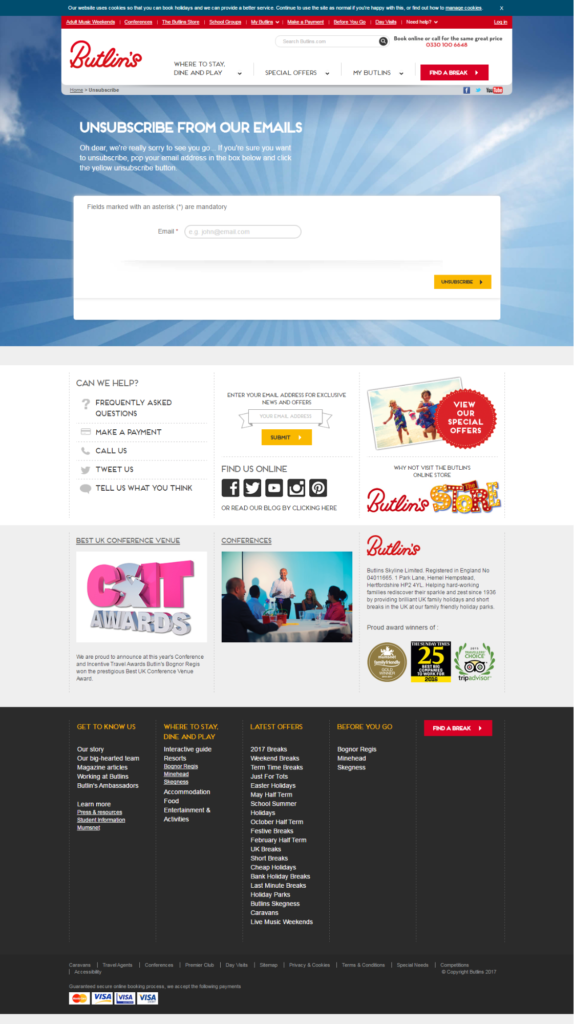 4. Monitor your email response analytics and take feedback seriously.
Keep a track of your email response analytics. Analyze the different kinds of emails sent and improvise on your email marketing strategy. By doing so, you can ensure that people love your emails and stay subscribed. Take feedback from people who opt out and make the necessary changes.
5. Redirect to a preference center and respect the changes.
The unsubscribe link should redirect the subscriber to a preference center that lets recipients change the type and frequency of emails received.
Respect the changes and send emails accordingly.
Check out Boden's preference center to get a better idea on what yours should be.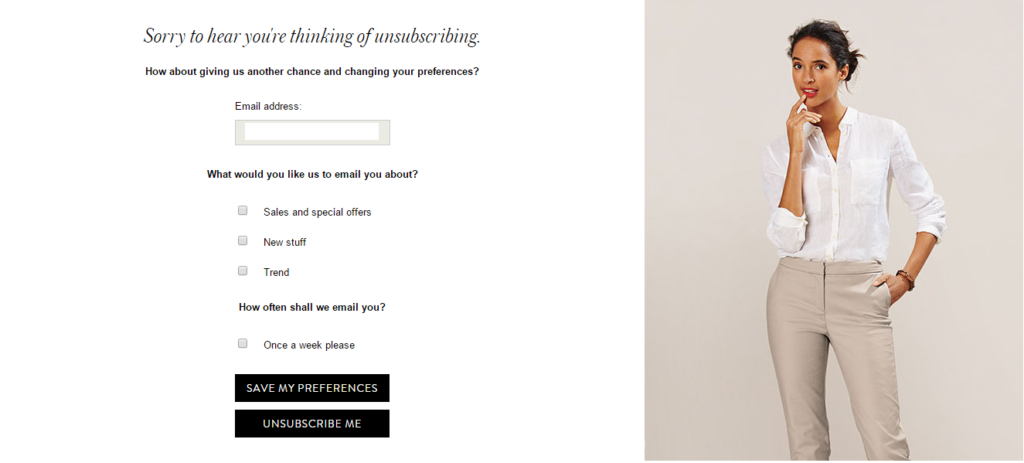 6. Maintain consistency in your email schedule.
Predictability reduces unsubscribes because your subscribers know when to expect your emails.
Have a look at how Sports Car Digest informs the subscriber in their welcome email.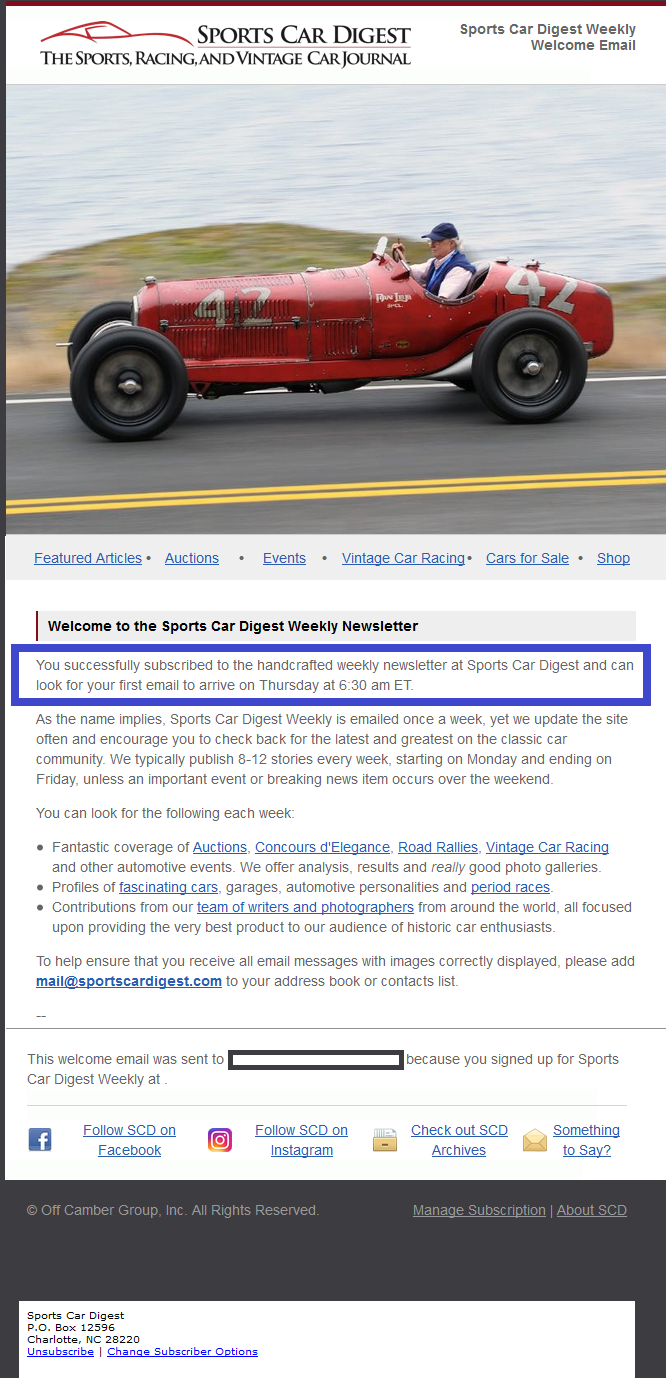 7. Send fast-loading emails.
Humans are impatient when it comes to 'load time' of emails or websites. Send fast-loading emails without any heavy images or design elements.
8. Send out emails that ooze exclusivity.
Personalize beyond the first name; give your customers exclusive offers to make them feel special. Go an extra mile and delight them with discounts and incentives that leave them pleasantly surprised.
Wrapping up
If you wish to minimize your unsubscribe rate, your emails should add value to the life (inbox) of your customers. Focusing on creating emails with better content, engaging offers, and attractive visuals sent at the right time can go a long way in maintaining an unsubscribe rate below 0.5%.