"Documentation is a little bit like broccoli; we all know it's good for us, but many of us avoid it."
Documentation is a little bit like broccoli; we all know it's good for us, but many of us avoid it. It would be one thing if it was just a matter of getting things documented once, but the web is a never-finished medium and producing "living" documentation that evolves alongside projects and sites can require a heroic level of time and energy. Unfortunately this documentation void is a major contributor to bad information architecture design, especially as a site evolves over time. Blueprints and sitemaps let us look at complex information spaces from a bird's-eye view, which helps us think more holistically and systematically about the design. But in order to do that, we have to have tools that support our work within the framework of our realities. And for the foreseeable future, this reality is likely to include projects that will never have time for documentation built into the resource allocation plan.
Intuitect is the most recent entrant into the emerging market for software that supports design and documentation of websites and information products from conception to prototyping. As such, it supports the creation of sitemaps to show hierarchical relationships, wireframes to show page-level components, and flow diagrams to document state and interactive components. Its features compete most closely with iRise and Axure; iRise being the first-to-market product focused on rapid prototyping and geared at the enterprise level, and Axure being the lighter, faster, cheaper entrant with a virtually identical feature set and more user friendly user interface (UI).
I have been leading user experience (UX) design teams for several years, which involves staying abreast of software tools that my team may find useful, evaluating software requests from my team, and making a business case for purchasing software. Because none of these tasks require me to have the level of proficiency possessed by the active practitioner, this review will focus more on my assessment of the strengths and weaknesses from a conceptual perspective, leaving the detailed evaluation of specific controls to a competent practitioner. While no longer in a practitioner role, I've had a significant amount of exposure to many of the products in this marketplace; in previous workplaces we used both Visio and iRise and in my current situation Visio, Axure, Illustrator, and Dreamweaver are all used in information design documentation.
From my perspective, there are three rather unique differentiators to Intuitect:
It is a licensed Visio add-on rather than an independent software program.
It is specifically catering to user experience professionals and works from a baseline assumption that users will be conversant in principles of information architecture and interaction design.
It has a fairly sophisticated approach to indexing structural components that acknowledges the dynamic nature web design projects, which, by their very nature, are continuously undergoing revision.
The good, the bad, and the compatible
Specifically catering to UX professionals is an aspect of Intuitect that I find particularly compelling because the software intrinsically acknowledges the relationship between page components, pages, and organizational groupings—something that is not fully realized in either iRise or Axure. As an information architect by training, having a product with specific affordances for documenting navigation is long overdue.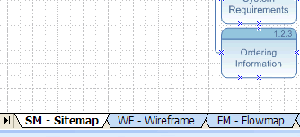 The ability to move (in this case by tabs at the bottom of the screen) among sitemaps, wireframes, and flow diagrams supports thinking about information spaces more organically. It is the ability to see our design work through several lenses (sitemap/blueprint, page-level wireframe, interaction flow) toggle that I find most compelling. This multi-view approach has potential to be a powerful training and teaching tool while simultaneously supporting experienced practitioners in doing more complex design work. While experimenting with the tool I had the sensation that I was thinking less linearly and was able to visualize the interaction of components and pages in a more multi-dimensional way than was previously feasible with Visio or the other products I've used.
Pros and cons assert themselves the most baldly with Intuitect's status as a Visio add-on. As someone who has used Visio extensively, I appreciate this integration, which allows Intuitect to rely on Visio's existing strengths and extend and improve upon a mature software product's formidable feature set. Anyone who has been using Visio regularly will likely be enthusiastic about the extended capabilities, as well as appreciative of the UI commonalities and the comparatively low barrier to entry in terms of pricing. Additionally, people who work in large organizations will likely experience few compatibility problems and may find it easier to have Intuitect accepted as a new software addition due to its association with Microsoft and the Office Suite's level of penetration in large companies.
Of course, therein lies the rub—Intuitect is not available to Mac users (who typically use Omnigraffle) and may be overlooked by shops where Visio isn't used regularly. In addition, it may have a higher learning curve for those who are unfamiliar with Visio since they'll have to familiarize themselves with the peccadilloes of both components. Since Visio doesn't have the same level of penetration as the other components of the Office suite, colleagues and clients who review UX deliverables may not have the software and will have to view deliverables as PDFs or an equivalent solution. Of course, anyone already using Visio is almost certainly already adept in responding to this limitation. (Because Intuitect currently only works with Visio 2003 Professional, folks who have not upgraded their Office suite recently will not be able to access the software without an upgrade.)
It may be my own professional bias at work, but I see few disadvantages to Intuitect's UX-professional centric positioning; this is a niche that hasn't been fully explored as other programs have tended to focus more on enabling the business segment to participate in the information design process. While it's possible that some prospective users could be put off by the UX-specific positioning, I doubt that this would be likely to pose any greater barrier than the issues around Visio adoption described above. Most of the business analysts that I've worked with are Visio conversant and will readily grasp Intuitect's design themes.
Indexing to the rescue
"I have long been frustrated by the clash that occurs between the realities of working in new media, where the only constant is change and the inherently static nature of documentation."
It is Intuitect's approach to indexing that I find most exciting about the product. Unlike traditional approaches to web design documentation where the "boxes and arrows" have static relationships, Intuitect captures the logical relationships between pages and data structures and is able to cascade changes and maintain relationships as the design expands and contracts and as hierarchical relationships change.
I have long been frustrated by the clash that occurs between the realities of working in new media, where the only constant is change and the inherently static nature of documentation. To date, I haven't encountered a satisfactory solution to the problem of updating documentation in real-time—updating in a way that cascades throughout the design without requiring a manual update of numbering schemes. Because creating and maintaining documentation is so mind-numbingly labor intensive, most organizations end up with one of several (unsatisfactory) approaches:
Generate sitemaps lifted from the website via an automated process—from a content management system, for example—which to be disconnected from the organic site design and development in progress;
Settle for woefully out of date and incomplete documentation, or, most commonly;
Don't maintain this kind of documentation outside of very specific redesign efforts.
Lack of or limits to documentation are a common lament in many industries. I suspect a primary cause of poor documentation in the web design world is the omnipresent change factor in that the next project is always underway before the current project is finished. If documentation were done for documentation's sake, this would not be a concern. But it's not: most information architectures are haphazard at best and impenetrable as the norm.
This product advances us another step down that road by introducing sophisticated indexing that can keep up with real-time design realities. With their approach to indexing, Intuitect offers the promise of painless evolution, and this strikes me as a feature that could become the product's "secret" weapon in terms of developing customer loyalty.
Intuitect is currently still in beta and, as such, there are still bugs, inconsistencies, and gaps in help content and feature set limitations to content with, but this is definitely a product that information architects and interaction designers will want to familiarize themselves with and one that may become indispensable to many in the UX design community.
For more information: