In part two of Metrics for Heuristics, Andrea Wiggins examines how web analytics can quantify usability, content, and navigation.
"When analytics data is shared with information architects, a subtler and more sophisticated user experience design can emerge."
Web analytics typically provides intelligence for marketers and executives. While valuable for proving Return On Investment (ROI), web analytics' real potential lies in improving the online user experience. When analytics data is shared with information architects, a subtler and more sophisticated user experience design can emerge. Information architects need to understand why visitors come to the site and what they seek, so that the content can be best presented to meet user needs and business goals. First, however, it is necessary to evaluate the site using appropriate information architecture guidelines.
Using heuristics
Providing a context for heuristics is the most useful application of web metrics in a site redesign: a framework for measurement is critical to future evaluation of the success and value of strategic but intangible investments like information architecture. Analyzing pre-existing web traffic yields insights to user behavior and measures how well a site meets user needs. By comparing analytic data to an information architect's heuristic evaluation, a basic validation emerges for otherwise subjective performance measures. In addition to heuristic validation, web analysts can use the information to engineer effective key performance indicators (KPI) for future evaluation, and the information architect can use the information to provide direction for the design.
Before further exploring the use of web analytics to support information architecture heuristics, it is necessary to note weaknesses in source data and current analytic practices. First, web traffic measurement will never reveal the complete user picture, and this is one reason to use web analytics in combination with other user experience evaluation tools, such as customer databases and user testing. Second, there are currently very few standards in measurement, methods, and terminology, which affects the analysis and interpretation of any web analytic data. Finally, available site traffic data may be suboptimal for analysis depending upon the volume and nature of the data available.
Rubinoff's user experience audit
Cooperative selection of success measures early in the project's definition or discovery phase will align design and evaluation from the start, and both the information architect and web analyst can better prove the value of their services and assure that the project's focus remains on business and user goals. To provide a useful context for design, Rubinoff's user experience audit is one of several tools information architects can use to evaluate a website.
Rubinoff presents a format quantifying useful, though subjective, measures that information architects can easily assess, and his example uses four broad, equally weighted categories with five evaluative statements in each. The most functional aspect of this tool is its complete customizability. Because every domain operates in a different context, information architects and web analysts will achieve greatest success by using the evaluative points that will be most verifiable and valuable for each website.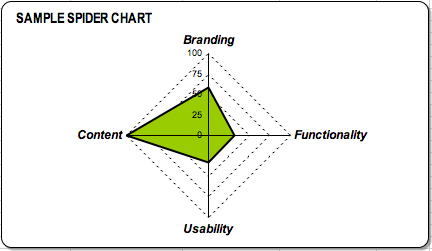 Figures 1: From "Quantifying the User Experience," Rober Scott Runiboff
I will examine representative evaluative points drawn directly from Rubinoff's user experience audit that can be validated through web analytics:
Branding
The site provides visitors with an engaging and memorable experience.

Graphics, collaterals and multimedia add value to the experience.
Usability
The site prevents errors and helps the user recover from them.

The site helps its visitors accomplish common goals and tasks.
Content
Link density provides clarity and easy navigation.

Content is structured in a way that facilitates the achievement of user goals.

Content is appropriate to customer needs and business goals.
Ideally, the most relevant metrics or KPI should be comparable both before and after a site is redesigned, although direct comparisons are often impossible after fundamental changes to site structure are implemented. By nature, a site redesign generates new points of measurement, typically enhanced by improved data collection strategies, and only a handful of the site's previous KPI might still be directly applicable.
Quantifying brand
A popular yet extremely subjective measure of brand requires judging whether the site provides an "engaging and memorable" experience. Direct measurement of brand is elusive in any medium, so web analytics' indirect evidence is far more tangible than brand evaluation in most other channels. As a validation metric, the most direct measure of the ephemeral value of brand is the ratio of returning visitors. The return visitor ratio for a site will vary: tech support sites prefer a low proportion of return visitors, but an ecommerce site requires a continual infusion of new visitors. To measure the online brand experience, the ideal proportion of return visitors for the site must be identified as a KPI tracked over time.
The length of the average site visit, in both time and pages viewed, also provides verification of the brand experience. A specific goal for engagement length can be set as a key performance indicator using either of these visit statistics for the site. Similarly, by considering content groups of similar pages, measuring the depth or breadth of visits to each content group can assess how engaging the users find the experience.
Unfortunately, validating an interactive element's brand value depends on whether the interaction was created with measurement in mind. Engaging online experiences like multimedia games, Flash, and AJAX are all measurable, but only if the design incorporates JavaScript tagging to report key interactions. When this information is available, appropriate analysis can still be difficult to generate. The current analysis tools are page-oriented, not interaction-oriented, so extensive work-around measures may be required. In a redesign, KPI for interactive site elements should be a primary consideration in the experience design development process. For example, the length of time users spend with an interactive element provides a concrete idea of how long users are engaged by the application, and the average number of return visits for returning visitors would be a simple statistic to assess how memorable the experience is: just how frequently do visitors return?
Another branding element that Rubinoff suggests evaluating is the value of graphics and multimedia. As previously mentioned, KPI for multimedia must be determined in the site planning phase for appropriate implementation, and these same measures can determine whether multimedia applications are providing value that justifies their expense. Aside from ensuring the graphics do not make the pages load too slowly, measuring the experiential value of graphics can be more difficult, unless they are clickable graphics leading the user to further content. The challenge then is to differentiate clicks on graphics from clicks on embedded navigation links. Shrewd design can assure this level of measurability for future evaluation, but it is unlikely for discovery phase analysis, where it would be most useful.
Editor's note: Check back for "Part 2" of this series where Andrea explores how designers can use metrics to quantify and evaluate a website's content, navigation, and usability.