Email was one of the first applications to move to the web, and the first to find widespread popularity among users.
In many respects, email is the ideal web application: it's an application that people often need access to when they're away from their "home" environment, and the core user tasks (reading and writing) are easily accommodated with standard HTML interface elements.
As a result, it should come as little surprise that the basic flow of Yahoo! Mail has hardly changed at all since the portal first acquired the RocketMail service in 1997. But rather than offering an outdated solution to the web-based email problem, Yahoo! Mail demonstrates the lasting effectiveness of a simple approach.
The application is extremely conservative with page designs. Almost all user interaction takes place across only three pages: the "message list" folder view, the "message display" page, and the "compose" page.
Another demonstration of this conservative approach is in the site's error handling. The entire application contains only one standalone error page (the "no account found" page in the login flow), and this seems more likely to be the result of a back-end limitation than a deliberate design choice.
A few awkward spots do appear in the flow. An empty search result set returns a search result page with a "no messages found" message, rather than bringing the user directly back to the query interface to retry the search.
Downloading attachments is a two-step process, which seems like one step too many. The dichotomy between viewing and editing contact information in the address book seems like an artificial distinction whose purpose is unclear. But these are really minor quibbles; overall, Yahoo! Mail is a model of streamlined interaction design.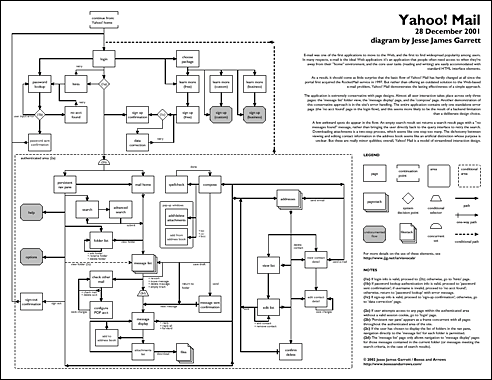 Poster-sized diagram (

PDF, 37K) | Letter-sized diagram (

PDF, 100K)
Note: The date on the diagram indicates when the snapshot of the system was taken. Yahoo! Mail may be substantially different now.
Jesse James Garrett has been working in the Internet industry since 1995. In the information architecture community, Jesse is recognized as a leading contributor to the development of this rapidly evolving discipline.