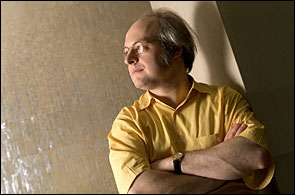 Jakob Nielsen is the usability guru who hardly needs an introduction. But for the sake of completeness we'll mention he's the co-founder of the California-based consultancy, Nielsen Norman Group, and has been crusading against bad web design for years through his biweekly column, The Alertbox, and his numerous books. He's brought usability to the attention of the general public, but within the user experience community he's been criticized by those who say he emphasizes a puritanical view of utilitarianism that excludes other dimensions of user experience. Oh, and did we mention he's the man who launched a thousand parody sites?
So is Nielsen the defender of ease-of-use or the enemy of creativity? We talked to the controversial Dane, and you might be surprised…
B&A: What are some of the toughest design challenges on the web today?
Nielsen: I think to get a really big jump in usability, because I think we can make a website that can show a few things quite well, if you have a few products. We can also do a huge database and you can search it, and it works reasonably well.
But I don't think we really have a handle on getting the average person through the vast number of things that a website can offer. If you narrow it down and show a few things, yes, if you assume that they are capable doing a lot of data manipulation. But I think there's a large number of cases that do not fall into one of those two categories. You can go to CNN and see the five big headlines of the day, and that works fairly well. You can go to Amazon and you can buy my book, for example, if you know the name of the book. But in the intermediate case of having a website with 10,000 articles and finding the one that's right for you, which is quite often the case on a tech support website … basically doesn't work at all.
B&A: What types of research interest you the most?
Nielsen: How to get usability out to the masses. When I say masses, I mean web designers, not users. Right now we have about 30 million websites, and we will have up to 100 million in three to five years. That's a large number of design projects. How many usability people are there in the world who are in any way qualified? At the most, maybe 10,000 or so.
Therefore, we know that we're not going to have this number of web projects done according to the recommended old methodology. So, even what I've been pushing in the past—more efficient, quick usability methodologies—is not good enough when you have that number of design projects. We need to have several orders of magnitude improvement in the efficiency of usability to really impact that number of design projects. Can we do things like encapsulate usability knowledge in guidelines such that an average designer can actually apply them?
B&A: What do you feel is the relationship between a usability professional and a designer?
Nielsen: I think they could play two different roles: either that of an editor and a writer, or a professor and a student.
In the more integrated projects, which is the preferred way to do it, I think it's more like the editor and the writer, where the designer will come up with things just as the writer would write the article, and the editor will make it better, will know what the readers need and how to present it in a good way and help the writer improve their article. I have never met a professional writer who didn't like to have a good editor. There often seems to be a conflict between designers and usability people, but I think that once you conceptualize it as the usability person helping to improve the design, then I think it goes away.
But you're going to have a lot of designers who don't have a usability professional in their team. So the vast majority of them just have to learn what the principles are that work well with users from usability professionals, and then it becomes more of an educational mission. So the relationship is more like that of the professor and the student. The student is the one who has to go do it at the end of the day, but the professor is the one who has the knowledge, having had done all the research in the past and can tell the student what works well.
B&A: How do you react to designers who have strong feelings about usability in one way or another?
Nielsen: I think that designers that don't want usability are misguided because it's really just a way of helping them achieve a better design. Some of them just reject the goal of having a design that's easy to use. If you have the goal of a design as actually trying to accomplish something, then you're more in the art world, and if the project doesn't have a goal, then maybe it's appropriate—design for design's sake. But if you do design to actually accomplish something, then I'd argue that it has to be easy to use, so I don't think that it's appropriate to reject the goal of usability if your project has to accomplish something. Design is creating something that has a purpose in life; art is creating for the sake of creating — that's my distinction between those two terms.
Whether they want to get usability from someone who knows about it, or whether they want to find it out themselves … can be debatable. How did any of us become usability specialists in the first place? Only by doing a lot of the research and studies. Any designer could do that as well if they bothered. They don't have to get it from us, but then I would argue that they would need to do it themselves.
B&A: Is there a particular reason you advocate for using guidelines? I've heard people say that it comes off as overly dogmatic to simply have a huge list of guidelines.
Nielsen: Experience says that usually these work — usually, but not always. Usability guidelines always need to be applied with a certain amount of understanding as to when they apply and when they don't apply. If a set of guidelines is written well, then usually they will apply, and it will be the exception when they don't apply. You have to acknowledge that on one hand it may be that only 90 percent of the guidelines apply … so you can't violate all guidelines, you can only violate some if you have a good reason to do so.
Some people may not understand the difference between a guideline and a standard. A standard is something that is 100 percent firm, and a guideline is something that is usually right — that's why it's called a guideline.
B&A: What's the difference between a standard, a guideline, and a heuristic?
Nielsen: You get even more vague when you get into the area of heuristics. Heuristics are things that are rules of thumb, so they are very vague and very broad. At the same time, they are very powerful, because they can explain a lot of different phenomena, but that explanation has to be done with a lot of insight, and that is what's more difficult. One of the lessons from a lot of my research is that heuristic evaluations indicate how to adjust an interface relative to these general principles of good usability. It's fairly difficult to do well. Anybody could do it to some extent, but they couldn't necessarily do it very well, and you have to have a large amount of experience to do it well.
On the average design project today, they don't have that amount of usability expertise on their team, and therefore we've got to give them something more complete that it's easier for them to deal with. It's a matter of the usability of the usability principles, really. If we make them more specific, they become more concrete, they're easier to interpret, and … easier for the designers to judge when they do not apply.
B&A: What's the difference between someone doing a heuristic evaluation solo versus doing it in a team?
Nielsen: The way I developed heuristic evaluations back in the 1980s was meant to be an interaction between solo and the team, because you first do it individually, and then you combine a few people who have done the heuristic evaluation. That's done very rarely, because it's rare that a project team will have that many people on board who really know about usability.
"(I)t's not a matter of intuition. It's a matter of being very good at pattern matching, being able to spot small things, and hold together the big picture of what that really means."
A common mistake about heuristics is thinking that it's just a list of complaints. It's not a list of complaints, it's a list of issues relating back to the underlying fundamental principles. When you say that this button is wrong or this flows wrong, you say it's wrong because it violates this well-known usability principle. And then, of course, people can argue. They can say, "no, it does not violate this principle," and then you would have a discussion about that, which is a great method of illuminating and getting insight into the design.
B&A: What are the most important skills for a usability specialist to have?
Nielsen: I would say experience. It's an unfortunate thing to say, because you can't acquire experience other than by doing it. This is a discipline where you will always start off being bad and you end up being good. You only get to be good by slogging through several initial projects where you didn't do that well, and then you get better and better. I think that being a truly great usability specialist comes from having 10 years of experience and having seen a very large number of different designs, different technologies, different types of users — a very broad variety of experience.
The benefit of usability, though, is that it is such a powerful method, and the return on investment is so huge that even if you don't do that great a job at it —maybe you don't get a return of 100-to-1 and you only get a return of 20-to-1 — that's still a huge return investment. Even the very first usability project someone does, and they mess up everything, it's still going to be positive, and it's going to be a great learning experience for them personally, and their team is going to get value out of the investment as well. Just keep doing it and doing it and doing it.
It's very much of an analytical and interpretive discipline as well. Intuition is completely the wrong word to use — it's not a matter of intuition. It's a matter of being very good at pattern matching, being able to spot small things, and hold together the big picture of what that really means. That's where experience helps you — it helps you to do pattern matching and match patterns you've seen before, and the more things you've seen before, the better you can do that.
There's definitely a big evangelizing and propaganda component as well, so having good communication skills is very important too.
B&A: Are there any usability specialists you particularly admire or whom you took guidance from?
Nielsen: I did actually. I'll say that two of them are actually colleagues at my company, Don Norman and Bruce Tognazzini. They are two incredibly great people. Another one I'd like to mention who's now retired is John Gould. He worked at IBM in the 1980s. He developed a lot of the early approaches and for any question you could come up with he'd say, "OK, you can do a study of that." He was just such an empirical guy that it was incredible.
Another person is Tom Landauer, who worked at Bell for many, many years. I was privileged to work with him for four years when I worked there as well. He was very much on the measurement side: "We can quantify this. We can estimate these things."
I'd like to mention one more person … I never worked with, Ted Nelson, who was the guy who kind of invented hypertext. He got me into this feeling that we shouldn't accept computers being difficult, that computers can be a personal empowerment tool. I read a lot of his writings when I was in grad school. His writing is really what got me going in this area in the first place back in the 1970s.
B&A: How many users do you yourself observe in the average month?
Nielsen: I probably sit with too few users, actually. Probably less than 10. It ought to be many more. In my own defense, I'll say that I've done it for many years, and the learning is cumulative. I run a lot of projects where someone else will sit with the user, but I'll still monitor very closely what goes on. I would still say that it's very important to sit with the user as well. People should continue to do that forever — you never get enough of that. In particular, for someone who's starting out in usability, I would say 20 or 30 a month would be a good goal to have, so that you can try to run a study every week.
B&A: Will there be new methodologies for user research in the future, or will we keep refining the ones we have right now?
Nielsen: I think mainly we will keep refining the ones we have. Of course, you never know if some completely new thing will come up, but I think it's not likely. The classic methodology was developed in the 1970s and early 1980s. John Gould was one of the big people doing that and I learned a lot from him. That was pretty much established by then: how to do measurement studies and all that.
"Usability has very much seemed like a black art … Many things are testable, but at the same time we have to broaden the scope to make it even cheaper, even more accessible, get even more people doing it."
Then, in the late 1980s, I reacted a bit against my own mentors and said, "These are all great methods, but they take too long, and a lot of projects won't do them if they're not at a big, rich company like IBM." So, we developed discount usability methodologies, which was a faster way of doing these things.
Since 1990 there hasn't been that much change. I think it's pretty slow-moving because it doesn't relate to technology, which changes all the time. It relates to humans and the process of accommodating human needs, which doesn't change very much.
B&A: Do you ever feel like discount usability methods can be misused?
Nielsen: I think there could be cases where someone does a heuristic without truly understanding the principles. Or you might have someone who tests one user and says, "Let's go with that." But in general I think that the methods are so powerful that they actually hold up pretty well even if they're abused.
I read recently somebody who had criticized the idea of doing studies with a small number of users with the argument that you cannot judge the severity of the usability problems because you don't have enough instances of observation to know the frequency with which it occurs. This is a circular argument, a self-fulfilling prophecy because you are accepting in their argument that the only way you can judge the severity of a problem is by having a statistically accurate assessment of it's frequency. I'm arguing that after having had observed it a few times, you can, with the insight that comes from experience, estimate the severity pretty well — good enough anyway. The real issue in severity ratings is that you've got to do a cost-benefit analysis.
B&A: What's your take on information architecture?
Nielsen: The first question I have is what it really even is. I tend to operate under the definition that it's the structuring of an information space. I view that as being different from information design, which has to deal with how you present the information once you've found it, or interaction design, which is a matter of flow through a transaction or task. I know that some people like to use the words information architecture to apply to everything, which is what I would tend to call user experience. That's purely a matter of what terminology you feel like using. I tend to think that user experience is built of these components: how are things structured, how it is presented, how do you flow through it, and other things like how is it advertised.
B&A: What's next for you and the Nielsen Norman Group?
Nielsen: Trying to drive usability more broadly toward that larger set of design firms, really trying to encapsulate it to make it more portable. Usability has very much seemed like a black art. I myself have often said, "Well, you can just test that." Well, that is true. Many things are testable, but at the same time we have to broaden the scope to make it even cheaper, even more accessible, get even more people doing it.
There's another trend as well which is tackling deeper issues that have been neglected in the past that need to be more in the forefront. Things like users with disabilities, international users, much more focus on task analysis and field studies — those are some of the other things we're pushing now.
Recently I've been pushing the notion of doing discount field studies. Field studies don't need to consist of five anthropologists taking a year to do a project. We've had a seminar at our conference on simplified field studies, which I personally think is a good seminar. But, empirical data shows that people don't want to do this. You can go to the conference and see people crammed into sessions on everything else, but then you go into the field studies seminar and there's only 30 people or so. We are pushing it, but we're not getting enough acceptance of this idea of the simplified field study.
B&A: Who do you think does a good job dealing with content online?
Nielsen: Very few actually. I can't come up with any great examples — it's still so print-oriented. My own articles aren't that great either, actually. I'm very verbose in my writing style. It needs to be very punchy and very short, and it's very hard to write that way.
There's more linking happening today with all of the weblogs, which is kind of nice, but I think the commentary is often not that great. The reason is that I think weblogs tend to emphasize this stream of consciousness posting style, which I don't think is good—that's not respectful of the readers' time. What's good about weblogs is that they've broadened the number of authors, but at the same time they've removed that feeling that the writing is really being edited.
B&A: If you weren't doing usability, what do you think you'd be doing?
Nielsen: I would probably be a university professor of something or other. When I think back to when I was a kid, I had a lot of different interests and things I was good at, which I think was one of the reasons I ended up in usability. You have be good at communicating, you have to know about technology, you have to understand interaction and human behavior. There's all these different angles that pull together very nicely in usability. It's good for a person who's broad in the types of things they're good at.
I might have ended up as a historian, I might have been a mathematician, I don't know. I think that being a professor is the most likely. The reason I got into usability is that it's a discipline that gets interesting when you go into the actual practice of it. There's actually not that much theory, and it's not that exciting actually.

Chad Thornton works as a Usability Specialist in the User Experience Group at Intuit. He has done similar work at Achieva, the American Museum of Natural History, and Pomona College, where he received his degree in Biology.