"Becoming a product manager is a logical move for many UX practitioners, as it requires many of the same skills, traits, and competencies involved in crafting a user experience."
User experience (UX) professionals are increasingly becoming interested in the business aspects of what they do. At their core, the user experience roles focus on understanding user needs and creating useful and easy-to-use products that address those needs.
User experience professionals often get frustrated when their research, designs, and ideas are not given the respect they feel they deserve. There isn't a UX professional who hasn't had a bad experience with a stakeholder who, despite their lack of customer interaction or knowledge of needs and workflows, overrules a research-based design on their gut feeling or unfounded opinion.
Increasingly, many UX professionals feel that they have the experience and insight to wield more authority and make a larger impact on the products they help to build. Product management is garnering more interest from interaction designers (IxDs), information architects (IAs), and UX designers looking to increase their influence and ensure user-centered product development.
Becoming a product manager is a logical move for many UX practitioners, as it requires many of the same skills, traits, and competencies involved in crafting a user experience. Additionally, product management is a common role within many organizations, making it easy to transition to a role that already exists. However, IAs and IxDs looking to make this move should examine the trade-offs if they choose this direct path to influence.
What is a product manager?
In the classic sense, a product manager is the president of the product. For the purposes of this discussion, we will define a product as any piece of software, website, web application, intranet, or technical product.
As presidents, product managers hold responsibility for the overall success of the product, including the user experience. For technology products, the user experience is a significant part of the success of the product. Product management (PM), though, also must ensure that all aspects of the product come together, including sale of the product, technology, legal, business model, positioning, branding, and marketing of the product.
To succeed, product managers need to act like leaders, not dictators, with support from cabinet members. Where a president will work with officials responsible for defense, transportation, and agriculture, product managers' cabinets consist of stakeholders responsible for marketing, technology, finance, and other areas. Rather than by a vote-driven democracy, product managers are held accountable by their users and customers, demonstrated by revenue, profit, usage, and other market-driven metrics.
The variety of tasks and areas involved in product management necessitates that product managers be well versed in the many areas of the business.
Responsibilities of product managers
The base responsibility of product managers is to understand the market and guide the development of a product to serve their market. Because user experience professionals are often already fluent in understanding customer needs and knowledgeable about the markets for which they are designing, they have the potential to make good product managers.
Product managers have several high-level responsibilities:
* Creating a strategy for the product. They focus on the long-term horizon and creating a compelling vision for the product's future.
* Translating that strategy into a product roadmap. With a clear vision and strategy, they lead efforts with stakeholders to identify how they can execute on that strategy.
* Composing requirements that support both the business strategy and the needs of the market. The roadmap identifies the major areas, which are then detailed out as specific actionable requirements.
* Making sure that the right features get built in the right order and at the right time. They prioritize the features based on customer value and relevance to the market.
* Ensuring proper communication with the market. By sending the right messages to the right people in the right way, product managers ensure that customers are aware of the great product they have spent time working on.
At the same time, product managers are responsible for ensuring that the detailed tactical work supports the higher-level strategic thinking.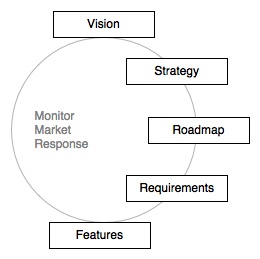 Product managers need to constantly monitor and revisit the strategy and adjust as necessary as customer needs, usage, market conditions, technology, and societal trends change.
Additionally, product managers are usually responsible for:
* Internal communication surrounding the product. Michael Shrivathsan describes the product manager as a "communications hub on product-related matters." (1) This also includes being the internal face of and cheerleader for the product. Especially in organizations with many products, product managers need to generate interest and excitement within the organization about their vision and roadmap.
* External leadership and communication about their product. Many product managers are the primary point of contact for industry analysts and reporters, speak at related conventions and trade shows, operate as the external face of their product, and lead or assist with marketing and sales support efforts. Larger organizations may have dedicated roles or groups devoted to sales support, but even in those companies, product managers will invariably spend part of their time assisting with marketing and supporting the sales staff.
* Portfolio management. Most products don't exist on their own. For example, iPod works with iTunes, Gmail works with Google Calendar, and the whole suite of Microsoft Office works together. Unless you work for a very small company, you will need to work with other product managers on a combined portfolio strategy.
The differences between product management and user experience
While the responsibilities of product managers are broad and strategic, product managers are also held accountable for tactical activities to create a product that embodies that strategy. At this more granular level, there can be some questions about how PM and UX overlap. As Jonathan Korman writes:
When I describe what I do to people who have not encountered the term "interaction design" before, I say first that "I look at users' needs, figure out what kind of product best addresses them, and create a behavior specification for that product which the development team then uses as requirements to drive their work." Often people say, "In my organization, we call that a 'product manager.'" (2)
At first glance, UX roles and product management can seem amazingly similar. However, when you take a closer look, you see that PM and UX differ pointedly in responsibility, focus, and reliance.
Responsibility: Product managers are responsible for the overall success, while UX practitioners are responsible for ensuring that the interface is designed to meet users' needs and be easy to use. User experience professionals should still be concerned with the overall success, just as sales, marketing, and engineering should be, but are not held accountable for that success.
Focus: While UX professionals focus on the interface and the user experience, product managers watch the interface and user experience, along with overall market feedback, specific marketing plans, competition, technology, profit and loss, and resources available to the product.
Reliance: Information architects, graphic designers, and usability specialists' main focus on the interface allows them to rely mostly on themselves or others in the same role to accomplish their work. Product managers rely constantly on other people to do the execution of their product strategy. The role requires a delicate blend of vision and strategy, influence, and firm-but-fair decision-making more so than required for most UX roles.
Jonathan Korman offers perhaps the best distinction between product managers and other roles like UX/IA:
Product managers are responsible for what the product should do; other roles are responsible for how the product does that.
Conflict between product management and user experience
The most common conflict between user experience and product management roles comes into play when discussing what the product should do and how it should do that. There are often arguments about who should be responsible for defining the features and functionalities of the product. Product managers feel as though they should be responsible since they manage the product, but user experience professionals feel as though they should be responsible since they spend time researching user needs and interacting directly with customers and users.
Ultimately, since product managers are responsible for the overall success of the product, they are the final arbiters of what the product should do. A good market-focused product manager understands the market context and customer needs and makes appropriate decisions about features and functionality based on first-hand experience and all available research.
User experience professionals often chafe at this idea, feeling as though since they are closer to the customers and users, they should be responsible for requirements gathering and definition. Good product managers are just as close to their customers as user experience professionals, if not more so. Product managers should not be detached from customers, sitting in the office in meetings while user researchers are conducting research.
Good product managers understand the role and importance of user experience specialists. They value their input and use their research and recommendations to create good products. Just like the president takes advice from cabinet members, product managers should use their cabinet members—user experience, marketing, technology—to inform decisions that they need to make.
Transitioning from user experience into product management is more than just getting to call all the shots on the interface design. Product managers have an important but challenging role, responsible for defining a vision and strategy, internal and external product leadership, creating business cases and obtaining funding, sweating the details while keeping their eye on the big picture, and coordinating the various aspects that go into a successful product—marketing, engineering, finance, sales, and, of course, user experience.
Here we've outlined the responsibilities of product managers, the distinctions between product management and user experience, and why there is sometimes conflict between the two roles.
In Part 2 of this series, we'll cover what you can do to prepare yourself to move into product management, including what you'll do as a product manager that you won't do as a user experience professional (and vice versa), how you can prepare yourself for being a product manager, and common pitfalls that product managers, from a user experience background, have made when making the transition.
Read Part 2 now.

Endnotes
Seven Traits of Successful Product Managers, by Michael Shrivathsan
Where do product managers fit?, Jonathan Korman
Read Part 2

Want to learn more? Listen to Jeff Parks in conversation with Jeff Lash and Chris Baum in Boxes and Arrows' FIRST EVER podcast… (but not our last!): Download the MP3