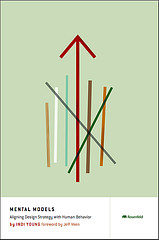 Rosenfeld Media has just released Indi Young's Mental Models: Aligning Design Strategy With Human Behavior. Boxes and Arrows sits down with Indi to talk about:
* The origins and evolution of the mental model
* How the mental model is a way of visualizing nearly any research data
* What shortcuts you can use to get started on a mental model with minimal time investment
* Why "combing" an interview is like riding a bicycle
* How Webvan failed because it ignore the mental model of its customers
If you're unfamiliar with Indi's mental model diagrams, download the excerpt(.pdf), check out the "book's description":http://www.rosenfeldmedia.com/books/mental-models/info/description/ for more information on the method, or visit "this Flickr set":http://flickr.com/photos/rosenfeldmedia/sets/72157603511616271/ for images from the book.

Discount for Boxes and Arrows readers: Get a 10% discount by purchasing the book "directly from Rosenfeld Media":http://www.rosenfeldmedia.com/books/mental-models/. Just use the code BARMMM10.

Mental Models: Origins & Evolution
Boxes & Arrows: Our readers would benefit from the story behind the Mental Model. Can you tell us how you created it?
On a project at Visa back in '93 or '94, I was the interaction designer on a team of consultants including developers, business people, and analysts.
The business analysts didn't have their work together, so I started working on the customer service rep workflow table in MS Excel, a kind of state diagram from "Computer Science":http://en.wikipedia.org/wiki/State_diagram. At the same time, a Stanford professor did a presentation on the layers of user experience at "BayCHI":http://www.baychi.org/. One of those layers was a "task" layer, very much like the state diagram.
At first I only documented the the behaviors; I didn't let any of the emotions or philosophy get into it at all. For one client, I presented the state diagram by lining up the internal workflow underneath their customers' workflow, the flip of the mental model. Kevin George was there and immediately encouraged me to pursue this method as it was a very powerful way to explain these relationships to a customer.

B&A: It's interesting how this really arose from trying to allow communication between stakeholders. How has the mental model changed since then?
I did some projects at Charles Schwab, and started using the long horizon diagram. In doing that format, I started realizing that I was trying to capture motivations that influence behavior as well as the behavior itself. I was never interested in the granularity about how you actually use an application that the usability people were seeking. I wanted to know understand what you're thinking about.

"Todd Wilkens":http://adaptivepath.com/aboutus/toddw.php mentioned a year or two ago that I am looking for behavior, and I realized that they weren't tasks. He was absolutely right.
These days I'm trying to call it behavior, motivation, philosophy, and emotion but stay away from statement of fact, references to things, preference, and the actual use of the tool. I want to know what people think as they walk down the hallway to go do something. I call this the hallway test.
Customers are just thinking about their reactions to the tool. They are not trying to squeeze water out of a water bottle, they are trying to quench their thirst. Of course you want to listen to them, but at the same time you want to interpret.
They aren't going to approach you and say, "I'm trying to quench my thirst, make it quench faster." When you try to do it at the level of the tool, you're blinkered by what that tool does already. I'm interested in the mind process – what you are you trying to get done.

B&A: This doesn't acknowledge the base influences that are going to make that successful or not. As a business, you have an objective you're going for and need to balance it with the customer's objective, not their preference. Even business decisions are many times colored by preference.
I like to talk about how CEOs and founders for startups have the original mission statement at heart. "I do this because my son is having trouble in school, because the school system doesn't work." They sometimes lose sight of all the details.
They start off down the path with one certain solution, they're solving the problems associated with that solution and losing track of the mission. What if it's the wrong path? What if they branched left when they should have branched right?
They start losing the ability to go back and explore other branches or go back to the root and start in another direction because they have so much investment in it.

B&A: Interesting. What you're doing is taking a mission statement and giving it a skeleton to grown on, to iterate a strategy. The mental model includes the details of what both the business and the customers are trying to do. Is that right?
Yes, the diagram looks like a skeleton or a spine if you turn it on its side. That's the whole idea! It's something that's going to last for a very long time, and you can hang all of your decisions off of it. It's something that you want to go back to on a regular basis when you want to start a new path or shake things up.
The diagram also helps you show others how you've prioritized your current focus and how their item fell into the quadrant of things that you'll do later.

Comparing Methods
B&A: How do mental models compare with different research methods?
Many different methods allow you to collect data, but I have not found others that let you represent the data effectively. The mental model diagram can visualize ANY research data as long as it's data about why customers do things.
For example, diaries can feed into mental models. You can process them the same way you process a transcript. You won't be able to drill down into the "why" further, as you have no control how deep people go.
Ethnography (field studies) can also get built into a mental model. Once you've followed people to their offices, you have third-person notes (she did this, he did that) rather than transcripts. Just translate it to "I" and make a mental model.
At "Adaptive Path":http://adaptivepath.com/, when we were asked to do usability, we'd run an interview either the first part of the last half of the test. Then, we would add the interview data to the mental model as well.
Just get this information somehow. What is going on in their head before they use the product? Why are they using the product? How are they using the product isn't that important. Ignore the product.

B&A: So you just do some research and dissemble it into the mental model. They aren't mutually exclusive.
That's why I have all these shortcuts and why anyone can create a mental model. It's just a representation of a process, and the purity of that representation is dependent on how much time you put into it.
That purity arises from how much you can disengage yourself from your own world and tools. Look at the user from their perspective.

Creating a Mental Model
B&A: Ok, let's shift gears a bit. You go do your interviews. Can you talk about extracting the behaviors, what you call "combing" the script? You were saying that sometimes it's difficult.
It is hard to do a mental model, until you get it. As I mentioned, this is not just tasks. It's behavior, motivation, and philosophy. You have to think about how to distinguish preference from philosophy and statements of fact from actual behaviors.
Here's an example:
When interviewing a manager who oversees fleets of vehicles, she might say:
"I believe in not overloading my employees with work."
"I'm gonna assign 3-4 jobs per day."
"We send out 300 vans a day."
These words come to me as 3 things:
* Assign 3-4 jobs per day. This is a true task.
* Not overloading the drivers. This is a philosophy that guides how the jobs are assigned.
* Send out 300 vans a day. That is just a statement of fact that I will not include in the mental model.
Sending 300 vans out sounds like a task. It has a verb, but it's not a task. You aren't doing it, the organization is.
They can talk about the process of how they decide where to send the drivers, prioritize things, or deal with emergencies. All of that is behavior. It can be difficult for designers to sort between those at first.
You also want to leave preferences out of the diagram. They actually began with the verb "prefer." "I prefer to come into work early." In his next statement if a driver told you his philosophy behind coming into work early "because…" That is what you want. If you picked that up during the interview, you could have explored it a little bit. There may or may not be a reason. Maybe he's just a morning person.
Philosophies are important to get into the mental model because your business is going to want to be aware of and support those kinds of things.

B&A: There's a subtlety there. Both statements sound like descriptions of why they do something. One has a reason, the other is just what they like or don't like.
Not only is it difficult when you're trying to comb tasks out of a transcript, but it's also something that poses difficulties when you're writing the interview. Before you try running an interview, you have be somewhat aware of what the tasks are going to be. A great way to do that is to practice combing a transcript.
Be careful that you don't ask leading questions using do, did, would, or could. Rather, start with who, what, where, when, and how. If you do this, you're generally scott free. And always remember to follow up by asking why, like a 4-year-old. It may be annoying, but that's kind of what you're trying to do.
Even with all of my experience doing this, I still find myself not going deep enough. One blatant example: one woman told me that she holds meetings with her team every week. In my head, I made this instant assumption of what those meetings were about, because i've been to weekly meetings with a team leader.
When I was combing it, I thought, "Why is she holding those weekly meetings? Is she trying to…?" The assumption I made was that she was trying to find out status on everybody's project. In the end, I had no idea why she was holding those meetings.
A lot of these interviews that I do are a little more psychoanalytical, because it is not conscious why were doing some of these things. Maybe the woman holding the meeting has never had to enunciate why she's doing it. I ask her to do that during the interview.

B&A: In the "Women in IA podcast":http://iavoice.typepad.com/ia_voice/2007/04/women_in_ia_ind.html, you mentioned that you don't find it difficult to get people do to mental models. I have to press on that fact. It's not a very simple, easy process.
Well, let me go back to the shortcuts. You and i could sit here in Starbucks (where we met for the interview – Ed.) and sketch out what the baristas do. If we watched them greet the regulars and non-regulars, we could sketch out their tasks and mental processes. There is a real strong mental model right there. We could note what we see, but we're going to miss things. For example, we won't capture what they do in before opening the doors in the morning.
You don't necessarily have to do it the hard way – going out, doing the interviews, and combing the transcripts for tasks. However, that's the most agnostic and data-driven way to do it, and by going through the extra effort is how you're going to make discoveries of things that aren't already in your head.
I list a couple options in the book. For example, you really believe in this, but your employer doesn't. Well, I've heard people interviewing people and combing the interviews and creating a mental model in their spare time. Then they unveil it in some team meeting to kisses and hugs.

B&A: It just sounds like that will be a little more focused on the tools that exist rather than the philosophies around them.
That's the problem. All of these shortcuts have the same troubles. I actually ran a lot of the "stakeholders around the table" discussions back in the dot com era because every wanted to spend the time to doing it.
I even did this for Webvan, but I could not get them to pay attention to it. For example, their interface was about picking delivery windows, which made the customer pick the end of the transaction up front so the company could maximize the efficiency of the trucks going out. It just wasn't working.
Customers didn't like picking the delivery window first. It wasn't in their mental model. "I want to tell you what I want, because that's what I know now. Then we can discuss how you bring it to me."
Every single one of the Webvan mental models was missing the mental spaces that would have gotten them ahead of their competition or help them understand their customer base. So the "sitting around the table" method is a little dangerous, as it might mislead you to believe you've got it all.

B&A: Luckily for those of us still standing, we can try to avoid those mistakes. Mental models seem like fantastic tools. Thanks so much for taking the time, and good luck with the book!
I enjoyed it, too. Take care!

Excerpt
If you liked this interview, download the excerpt. (.pdf)
Boxes and Arrows readers can get a 10% discount by purchasing the book "directly from Rosenfeld Media":http://www.rosenfeldmedia.com/books/mental-models/. Just use the code BARMMM10.
About the Book
"Mental Models: Aligning Design Strategy With Human Behavior":http://www.rosenfeldmedia.com/books/mental-models/
by Indi Young
Paperback, 299 pages
Publisher: Rosenfeld Media (2008)
ISBN-10: 1933820063