Nowadays everyone wants social in their sites and applications. It's become a basic requirement in consumer web software and is slowly infiltrating the enterprise as well. So what's a designer to do when confronted with the requirements to "add social"? Designing social interfaces is more than just slapping on Twitter-like or Facebook-like features onto your site. Not all features are created equal and sometimes a little bit can go a long way. It's important to consider your audience, your product—what your users will be rallying around and why they would want to become engaged with it and each other, and that you can approach this in a systematic way, a little bit at a time.
These concepts derive from a book I wrote recently with Christian Crumlish, "Designing Social Interfaces". They are quick and easy things to remember when infusing social into your site. Each points offers some simple suggestions and points to consider when designing. Potential design patterns are recommended (and linked to) as examples for what could be done in your interface as you design and grow your service. Keep in mind that your context will dictate different specific solutions but the questions and concepts to think about will still be applicable.
Step 1 – What's your social object? Make sure there is a "there" there. Give users a reason to rally. Why would someone come to your site?
Most people are drawn to a site based on their particular interests, in hopes of learning more or meeting others like themselves. They may be looking for information or they may have information to share. They have a passion—such as making handcrafted jewelry or taking landscape photographs—and at some point, they will want to share that with other people. That passion, that thing that people rally around is often referred to as the social object. It's the object around which conversations emerge and thrive.
Remember that sometimes, the social object is a person – or the conversations between people. But don't forget history (remember Friendster? or SixDegrees?), if the only thing to do is build a profile, people will eventually go somewhere else to have conversations or to do things around objects of interest.
Step 2 – Give people a way to identify themselves and to be identified.
This can be as simple as an "attribution" line when contributing and signing content.


Attribution of a comment on flickr
It could be an "identity card" that shows a little bit about the person and is attached to every thing they do or can be as robust and complex as a "full profile" that is linked from all their contributions. The method can start out simple and grow over time.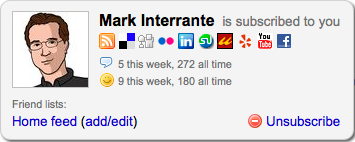 Identity or Contact card as seen on FriendFeed
It's important to give people credit for their words and contributions. It helps others recognize their friends and disambiguate them from other people with the same name and builds a "reputation of quality" or lack thereof for their participation on your service.
Public display of relationships allows viewers to find others they might know by allowing them to browse contacts for the person whose info they are viewing.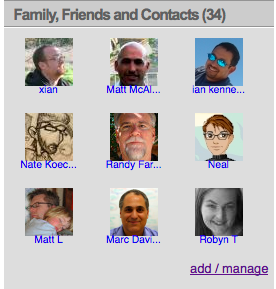 Relationship module shown from MyBlogLog
Once you have given people the ability to identify themselves, allow them to "find each other" and claim their tribe. "Relationships" make the world go round and online it's no different.
Step 3 – Give people something to do.
Provide a path for participation so lurkers as well as early adopters can be engaged at the level of effort that is appropriate for them. Things like ratings ("1-5" or "thumbs up") are easy ways to get low participation people involved by letting them quickly register their opinion with little effort.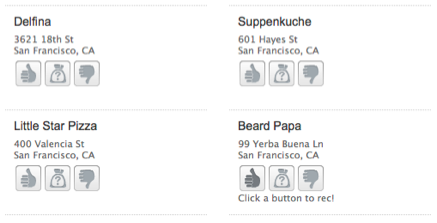 Thumbs up and down ratings for restaurants on GoodRec
Allow them to "share items" they find interesting with their friends or family and "curate and collect their favorites". The latter requires a little bit more effort, but lets your users have ownership over what they find meaningful.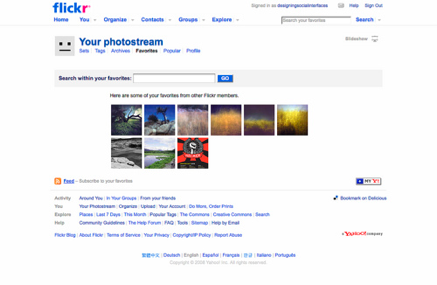 Flickr allows users to "favorite" images they like and collect them for display to others.
At the other end of the spectrum is full authorship of content with "reviews", "comments", "blog postings", and "wiki entries" all the way through to participation as a moderator or guide in your service.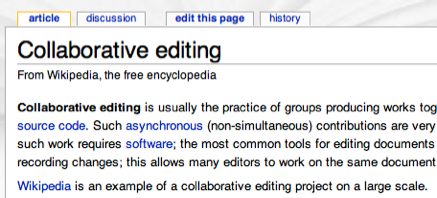 Wikimedia allows collaborative editing of content on sites built with the software.
Start simple, with light features, and gradually add more complexity if it is really needed. Keep the structure flexible enough for your users to mold and adapt to their needs. In the book, we discuss several principles related to this including "Deliberately Leave Things Incomplete", which reminds designers to allow features to emerge from the community behavior rather than forcing behavior to fit the UI and "Strict vs. Fluid Taxonomies" which merges a strict taxonomy like your site navigation with user generated groupings and organization with features like Groups, Message Boards, Tagging, etc.
Allowing behavior to guide your features and giving your users ownership of the structure make the site much more personal for them which in turn encourages repeat and longer term usage.
Step 4 – Enable a bridge to real life (groups, mobile, meetings, face-to-face).
Don't be afraid to build in tools that allow your users to bring their community into the real world. In many online groups, a majority of people know each other personally.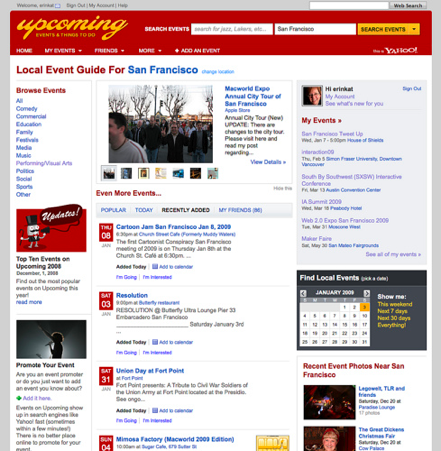 Upcoming shows local events and allows people to add events to their calendar and view events their friends are interested in.
Providing tools to help plan face-to-face meetings and then archive those happenings will strengthen your site and the community. Consider incorporating "geo" features like "GeoMapping", and "GeoMashups".
Additional features might entail creating "subspaces (groups)" and coordinating real time "face-to-face meetings" and gatherings among users of your service.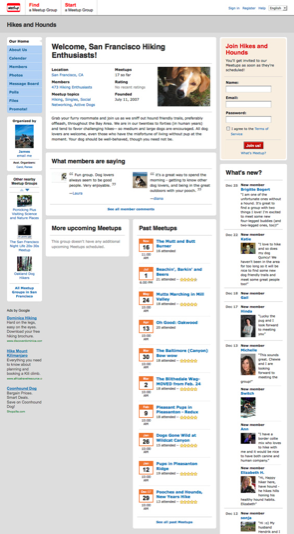 Meetup lets people affiliate with groups of interest and the site helps coordinate real life – in person meetings and gatherings between members.
Step 5 – Gently Moderate. Let the community elevate people and content they value.
This can be through simple things like ratings or "reputation labels".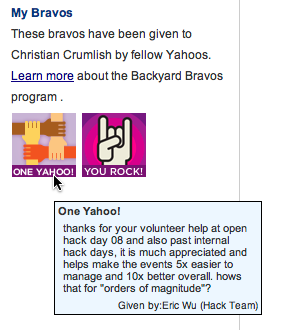 Reputation labels on the intranet at Yahoo!
The community can help you surface contributions of quality which in turn should help attract future participants and will help keep the interactions lively. This process also helps push bad quality content down and out of sight.
Keep an eye on the community, participate yourself, welcome people as they join, set yourself up as a role model.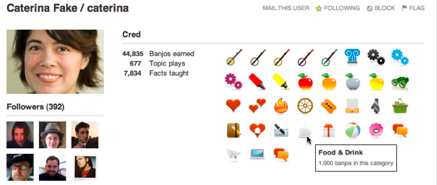 Hunch founder, Catarina Fake, acts as a role model for the community being built on the site.
Notice who is passionate and who is potentially causing trouble. Conversations should run their course. Let the "community moderate itself" and provide tools to allow them to do that, like allowing them to mark content as spam or block trolls or "report abuse". Step in only when necessary.


Report Abuse is available on every comment in Yahoo! Answers and allows users to moderate the content quality.
Make sure people are aware of the "terms of service" and "license" implications of content they create – both as it relates to your site as well as what they can permit others to do with their content.
Go out and get started
These are a few of the things to consider when building a social application or when adding social features to an existing site. There are a lot more features and concepts available within the social ecosystem but these should get you started and will build a good foundation from which more robust and complex features can be added to.
It is important to remember that you don't have to do it all at once. You can apply features sparingly and let the community tell you when you need to expand. Consider the bare minimum while fleshing out your infrastructure. Add complexity as your community grows and scales. Remember that you are building a container for activity and conversation and that you don't have to have everything figured out. The people will create their own paths of interaction making their own meaning and experience.