Introduction
When it comes to user interface documentation, wireframes have long been the tool of choice. However, using traditional diagramming tools like Visio, OmniGraffle, and InDesign, most wireframes today look the same as their ancestors did from a decade ago – assembled with rigid, computer-drawn boxes, lines and text. While these artifacts have served us well, they can also be slow to produce, burdened with unnecessary detail and give a false impression of "completion."
To compensate for the drawbacks of traditional wireframes, many practitioners put aside the computer in favor of simple pencil sketches or whiteboard drawings. This speeds up the ideation process, but doesn't always produce presentable or maintainable documentation.
There is a growing popularity toward something in the middle: Computer-based sketchy wireframes. These allow computer wireframes to look more like quick, hand-drawn sketches while retaining the reusability and polish that we expect from digital artifacts.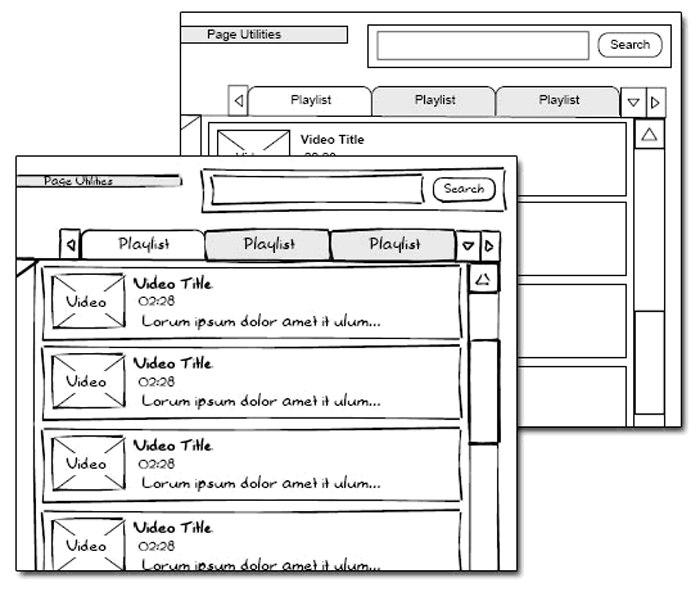 The same wireframe in sketchy and traditional representation.
The traditional wireframe problem
Throughout a project lifecycle, wireframes can be used for different purposes depending on the stage. In the early stage, wireframes act as a tool for exploration and concept development, when sweeping changes are expected and encouraged. As the project continues, parts of the wireframe begin to be "locked down" as functionality is reviewed and "signed-off." During this process, wireframes can become a confusing hybrid of conceptual ideas and finalized functionality. By the end of the process, wireframes can turn into a highly detailed functional specifications document.
The problem here is that traditional computer wireframing tools, like Visio, OmniGraffle or InDesign, lay out drawings as hard-lined boxes, lines and fonts. As a result, wireframes look the same regardless of which stage of completion the wireframe is representing. Early-stage, conceptual wireframes look identical to late-stage, functional specifications. This differentiation becomes especially murky in the middle of the project, where conceptual and final elements are commingled on the same page.
Sketching to the rescue?
To compensate for the drawbacks of traditional wireframing, some designers ditch the computer in favor of hand sketching. An informal poll by Konigi.com (as of 8/24/09) showed 22% of respondents identifying sketching as their primary tool for wireframing. Hand-sketching of wireframes, proponents argue, allows for faster expression of ideas and freedom from artificial confines of diagramming software. Sketches don't require the same level of detail, and can be produced faster than traditional computer-based wireframes, allowing for a more iterative design process.
Why not sketch…
If hand-sketching has so many advantages over computer-based tools, why don't we all ditch our mouse pads for sketch pads? There are four major reasons:
Drawing ability – Wireframes are essentially presentation tools, and not everyone may feel that their drawing skills are "presentable." In team environments, there can be a wide range of drawing skill levels… from the "can't draw a straight line" people to the "can't put down their sketchbook" people. This leaves a disparity in the quality of sketched deliverables produced by the team. Many organizations feel it's best to standardize their deliverables by forcing everyone to use the same tool.
Perception – When people become accustomed to seeing fully fleshed-out wireframes, introducing sketchy may be a challenge. Some may see the architect as suddenly becoming "sloppy" or "lazy." In these cases, it is critical to sell the benefits of sketchy wireframes to stakeholders and opinion leaders.
In situations where wireframes are intended to live past the initial concept stage and turn into functional specifications documents or user guides, hand-sketching is not the most appropriate method. Hand-drawn sketches give the wrong impression of flexibility at later stages of development when the interface has already been "locked down."
Reusability – Hand drawing is great for getting ideas down quickly. However, when wireframe documentation is lengthier than a couple of pages or when the documents must be re-worked over a long period, sketching loses its speed advantage and becomes a burden. In an electronic medium, changes can be made across pages and documents very quickly.
Prototype flexibility –Many practitioners prefer to go directly from hand-drawn wireframes to interactive prototypes, bypassing the more traditional wireframe process. However, in many situations, wireframes are used to generate interactive prototypes for proof of concept and/or usability testing. Hand-sketched wireframes are excellent for paper prototyping, but the amount of work involved increases quickly if they need to be scanned into the computer and converted into interactive prototypes. For on-screen prototypes, it is much easier to start with wireframes that are already in an electronic format.
Enter the computer-generated sketch
To compensate for the problems of both traditional and hand-sketched wireframes, certain programs allow you to create the look of hand-sketching with no drawing ability required, while retaining all of the benefits of a digital tool:
The style gives the impression of a work-in-progress, yet still retains a "polished" feeling that aids in acceptance by the workplace
Components are easily reusable for longer documents
Wireframes can be re-purposed for interactive prototyping
Sketchy wireframes in action
I discovered the need for computer-based sketchy wireframes while working on the website redesign of a well-known print media brand. I found myself presenting wireframes to executives, who would critique them in the same manner that they would a print-spread: with a heavy focus on fonts, text placements and graphic treatments. Despite frequent disclaimers that the wireframes were for high-level discussion purposes only, each presentation would drift into fixations of irrelevant details. To accommodate them, I found myself spending countless hours polishing the wireframes to look beautiful, when I should have been spending time on concept development and user testing.
To make matters worse, as we removed features from the wireframes that were determined to be "out of scope," we continued to receive requests to bring them back, right up until the end of the project. Clearly, the wireframes were not helping to convey the right message.
On the next project, I generated the conceptual-stage wireframes using sketchy Visio stencils created by Niklas Wolkert. I began all of my wireframe presentations with an explanation of why the wireframes looked like sketches: they were intended to be malleable, rough outlines. I also prepared the executives for the next phase by telling them that the sketchy look of the wireframes would be removed as decisions became "finalized."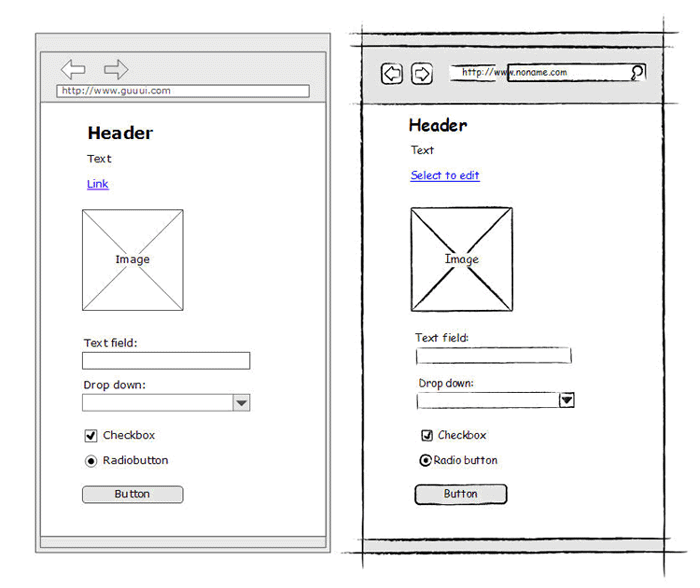 Caption: Comparison of the sketchy wireframe stencils by Niklas Wolkert (right) and traditional ones by Henrik Olsen (left) at guuui.com. Image credit: Henrik Olsen.
The improvement in the executives' perception of the process was immediate. The boxes and lines of the wireframe no longer had to look perfect, and the hand-drawn fonts couldn't possibly have been mistaken for an intentional design. The executives, feeling less compelled to fix the visuals, were free to talk at a high-level about architecture and strategy. As the project transitioned from concept to execution, I removed out-of-scope features and converted the style from sketchy to traditional. This virtually eliminated later-stage requests for functionality that had previously been removed.
The reaction to computer-based sketches
Having used computer-based sketchy wireframes on a number of projects, I've found many ways that they can decrease confusion with teams and stakeholders:
Clients and executives – People in this group typically want to push projects forward as quickly as possible. Consequently, the more "finished" the wireframes look, the faster they will expect to see the finished product. You can do yourself a disservice by making your wireframes look more complete than they are. To quote Kathy Sierra, "How 'done' something looks should match how 'done' something is."
Programmers – Programmers who see traditional wireframes too early in the process may misinterpret their functionality as "signed-off." Don't be shocked if you hear frantic questions like "Did we agree to this?" Programming requires meticulous attention to detail, so programmers read wireframes with an eagle eye. Consequently, they may expect a level of specification from wireframes that isn't appropriate in the early stages.
Designers – Designers make their living with their visual creativity, and they resist anything that could constrain it. Consequently, in situations where designers must work with wireframes created by someone else, designers can perceive them as a creative straightjacket, or worse, as a threat. A sketchy representation can help reduce friction by removing unnecessary details and adding a certain amount of "fuzziness" to the wireframes, thereby giving designers more leeway in interpreting the look and feel of the interface.
Users – In my research, I've found that users who are asked to comment on traditional wireframes can be intimidated by an overly finished look and feel. This is mirrored by a general consensus in the usability industry that the "less done" a demo looks, the more comfortable users feel with giving feedback. Where traditional wireframes can elicit comments like "I don't like the font on those words," sketchy wireframes are more likely to elicit comments like "I don't know what those words mean."
Computer-based sketchy tools
There are now a number of programs that are capable of generating computer-based sketchy wireframes. However, in working with them, I've found that many of them are missing what I have identified as four essential capabilities necessary to be considered a "complete" sketchy wireframing tool:
Ability to draw new sketchy shapes – These days, many components of user interfaces are standardized into stencils that can be dropped onto wireframes to build them out quickly. While this can be a real time saver, not all UI problems can be solved with prepackaged stencils. In fact, one could argue that the best use of wireframes is to illustrate new concepts that have not become standardized. Many tools use pre-built, sketchy-looking stencils to allow designers to create sketchy wireframes. However, at some point you will need to create new shapes that aren't available in your set, and a true sketchy tool must enable you to create new ones in the same sketchy style.


A sketchy tool should allow you to draw. These were created in Visio using custom line styles. This tutorial tells you how.

Easy conversion from sketchy to traditional style – Sketchy wireframes are a great tool for encouraging creativity, exploration, and collaboration. However, at some point, your blue-sky, creative ideas fall away and you are left with what you are actually going to build. In environments where wireframes morph into spec documents and user guides, those rough lines and hand drawn fonts must be converted to a more finished, traditional style to avoid the impression that your technical documentation is still changeable.

Does this mean you have to go back and re-draw all of your sketchy wireframes with straight lines? Not if you can avoid it. Fortunately, certain programs allow you to convert your existing sketchy lines and fonts to traditional style without having to recreate them.


Some software automatically converts from sketchy to traditional lines.

Realistic lines – It's always been difficult to approximate the look and feel of true hand-drawings using software tools, but some do it better than others. The quality of drawings generated by a computer-based sketchy tool could have an impact on whether the wireframes are perceived as "conceptual" or just plain "sloppy." These are the 3 major components needed to completely represent hand-drawn styles in wireframes:

Wavy lines – No human can match the rigidity of a computer's lines. Adding waviness and movement to lines humanizes them.
Varying line weights – When drawing conceptual wireframes, there are often areas of the screen that have yet to be explored. One way to represent this is to fade out lines as they enter these areas.
Smudging and smearing – These effects help to reduce focus on unimportant areas of the wireframe.


These lines, created in Fireworks with a graphite line texture, could hardly be mistaken for true hand-sketches.


These lines, created in Illustrator, are much closer approximations of true sketching.

Prototype flexibility – For those who prototype their products, speed and efficiency of workflow is a critical issue. In this case, the benefits of creating a sketchy look and feel will become irrelevant if doing so increases the time needed to create prototypes. Fortunately, some tools allow themselves to slip naturally into the process by generating interactive prototypes that maintain the sketchy look and feel.


In interactive sketchy prototype created in Visio and imported into Axure.
Comparison of computer-based sketchy tools
Software developers are starting to recognize the importance of computer-based sketchy wireframes, and there is a growing assortment of tools to create them. This is a quick breakdown of how each of the major tools matches our criteria for a complete computer-based sketchy tool:
| | | | | |
| --- | --- | --- | --- | --- |
| Tool | Draw Shapes | Easy Conversion | Realistic Lines | Prototype Flexibility |
| Balsamiq1 | | | | |
| Denim | | | | |
| Expression Blend 3 | | | | |
| Fore UI | | | | |
| Fireworks | | | | |
| Illustrator | | | | |
| InDesign | | | | |
| OmniGraffle | | | | |
| Pidoco | | | | |
| Visio2 | | | | |
Key:
= No Support
= Partial Support
= Full Support

Assumes prototype flexibility using a 3rd party program called Napkee
Assumes use of custom line styles, as demonstrated in this tutorial
Conclusion
As the industry evolves, there is a growing trend toward hand-drawn styles, as evidenced by an expanding amount of literature and workshops on the subject. This is a positive step in the evolution of our field. Sketchy wireframes allow practitioners to guide creativity and problem solving in the early stages of projects, rather than getting lost in a sea of documentation. Hopefully, this trend will continue as software manufacturers focus on enhancing their tools for creating computer-based sketchy wireframes.